This category houses sites whose topics concern both science and religion. Included are those which focus on the determination of a scientific basis for, or against, religion, as well as those which seek to reconcile science and religion.
&nbsp
&nbsp
Feature Article
The God of Science or the God of Religion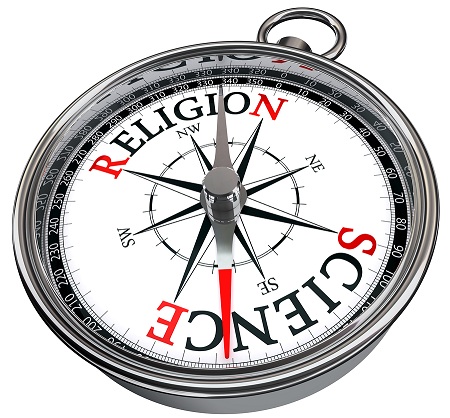 Nearly every scientific society in the United States has issued statements rejecting intelligent design and, so we are told, nearly every scientist in America, and throughout the world, believes that God had nothing to do with the origin of species, specifically the human species.

U.S. courts have repeatedly ruled in favor of teaching evolution in public school classrooms, and against teaching creationism, even as an alternative theory.

Yet, a 2012 Gallup poll holds that 46% of Americans believe that mankind was created by God. Additionally, about one-third of Americans believe that humans evolved, but with God's guidance, while only 15% hold that humans evolved with no help from a deity. These results have remained largely unchanged since Gallup first asked these questions thirty years ago.

Approximately eighty-five percent of Americans believe that God was involved, in some manner, either in the direct creation or in the evolution of man. Only fifteen percent believe that God had no part in it. In fact, between 2010 and 2012, the number of respondents who believed in direct creation went up by six percent, while those who believed that God made use of evolution went down by the same number, and one percent fewer people believed that God had no part in the process.

"All in all, there is no evidence ... of a substantial movement toward a secular viewpoint on human origins," states the Gallup report

Why is this? Are Americans ignorant or is there some other reason why they don't trust their scientists?

Apart from the fact that scientists have been caught lying to us about global warming, I believe the answers are simpler than that.

The vast majority of Americans reject atheism, and thus, naturalism as well. A solid majority of Americans are Christians, and many more believe in God. It should be no surprise then, that when a choir of experts insist that evolution is incompatible with a belief in God, people are forced to choose one or the other.

If science is the enemy of God, then only those who do not believe in God would choose science over God.

It should also be unsurprising that many Americans are reluctant to have evolution taught as fact to their children in the public schools, which their taxes support. Protestants don't want Catholic doctrine taught to their children, yet the distance between Protestantism and Catholicism is far less than the distance between Christianity and naturalism. For that matter, Christianity has far more in common with Judaism and Islam than it does with naturalism, as naturalism stands in direct opposition to theistic religion.

Thanks largely to declarations made by the experts, whose gains have largely come through the court systems rather than by persuasion of the public, evolution is seen as being central to naturalism, and naturalism is viewed much like a competing religion.

Claims by members of the scientific community that religion and evolution are incompatible does harm to science because it forces people to choose between science and a belief in God, and most believers are not going to choose science over God.

The tactics of members of the scientific community of going to court in order to prevent the teaching of creationism or intelligent design, has led to suspicion and mistrust of the scientific experts.

The perception that the scientific community has allied itself with a specific political faction, on this issue as it has with global warming, has served only to exacerbate feelings of misgiving.

If there is anyone who Americans distrust more than their scientists, it is their politicians.
Recommended Resources
Center for Theology and the Natural Sciences
The goal of the CTNS is to advocate for the creative mutual interaction between theology and the natural sciences, which it works to carry out through research, education and public service, with a scientific focus on physics, cosmology, evolutionary biology and genetics, with additional topics in the neurosciences, technology, environmental science, and mathematics, while its theological focus is on Christian theology, ethics and spirituality.
http://www.ctns.org/
This study seeks to offer logical, practical, pragmatic proof of God's existence from a purely scientific perspective. Featured topics speak of a practical man's proof of God, an understanding of what God is, questions of God's own creation, the cause of the beginning, and why the author left atheism. Other resources include charts, children's material, online correspondence courses, and journals.
http://www.doesgodexist.org/
Archive of biographical quotations and reference to Einstein's religious inclinations. Read his comments on religious beliefs, science and religion, morals, and discussion on the big questions.
http://www.einsteinandreligion.com/
This site focuses on apologetics, arguing for the existence of God using scientific methods. Topics include answers for atheists, design versus evolution, Biblical creation, Bible authenticity, Christian theology, aberrant theology, Christian tribulation, and Christian life issues, as well as an online discussion forum, book and movie reviews, and links to related sites
http://www.godandscience.org/
Guide to Social Science and Religion
The National Periodical Library provides an accessible body of knowledge on the subjects of Science and Religion. Subscribe to the database and search through full text articles chronicling more than 40 years of thought.
http://nplguide.com/
Interdisciplinary Encyclopedia of Religion and Science
An online database of articles pertaining to scientific and humanistic research. Intends to provide a comprehensive summary of what is currently being discussed scientifically about religion. View encyclopedia entries, documentation, or the catalogue.
http://www.disf.org/en/
International Association for the Cognitive Science of Religion
The objective of the IACSR is to promote the cognitive science of religion through international collaboration of any scholars whose research relates to the subject, arranged through biennial conferences as well as interim local meetings, the encouragement of research projects, scholarly publications, and the exchange of information online. An overview of the organization is presented, along with a calendar of scheduled meeting and activities, news, and external links.
http://www.iacsr.com/
International Society for Science & Religion
The ISSR was established for the purpose of promoting education in the fields of science and religion through the support of interdisciplinary learning and research, generally conducted in an international and multi-faith context. A list of members is presented, along with books authored by its members, society news, and other topics, such as intelligent design, hybrids and chimeras.
http://www.issr.org.uk/
The John Templeton Foundation is a philanthropic organization for research into such fields as theoretical physics, cosmology, evolutionary biology, cognitive science and social science relating to the spiritual issues of love, forgiveness, creativity, purpose, and the origin of religious belief.
http://www.templeton.org/
Metanexus is a global interdisciplinary institute, organized for the purpose of promoting a trans-disciplinary approach to questions of nature, culture and the human being. Comprised of a network of scholars, researchers, teachers, students and others interested in conducting research, hosting conferences and lectures, and publishing an electronic magazine, entitled "Global Spiral", which is available here.
http://www.metanexus.net/
Science and Religion in Schools Project
The intent of the SRSP is to impact the teaching of issues regarding science and religion in United Kingdom schools through the creation of effective teaching materials for both students and teachers. Sample materials are available from the site.
http://www.srsp.net/
The Templeton Press was founded as a program of the Templeton Foundation, a non-profit foundation established by Sir John Templeton. It focuses on the publication of books on topics such as altruism, business and spirituality, character development, church history, forgiveness, inspirational virtues, psychology, public policy, science and religion, spirituality and health, many of which are available in electronic editions.
http://www.templetonpress.org/
The Templeton Prize is an annual award given to a living person who is deemed to have made an exceptional contribution to the affirmation of life's spiritual dimensions, either through insight, discovery or practical works. The purpose and criteria are described, and past prize winners are identified.
http://www.templetonprize.org/
The Reluctant Messenger of Science and Religion
Homepage of the book by Drs. Stephen W. Boston and Evelyn McKnight, that attempts to reconcile the world's faiths and science in order to answer the big questions about life. Read stories about religion, God, prophecy and wisdom; as well as subscribe to the newsletter or contact the authors.
http://reluctant-messenger.com/
Search for Science & Religion on Google, Bing, or Yahoo!