Unidentified flying objects are flying objects whose nature is unknown, often thought to have extraterrestrial origins. By general definition however, the term may refer to any anomaly in the sky, or on the ground, that is observed flying, hovering, landing or taking off, which is not identifiable as a known object or phenomenon. In the 1940s and 1950s, UFOs were generally referred to as flying saucers or discs. The term "UFO" was created by the US Air Force in 1953 to replace other terms, as they were sometimes reported as taking other shapes.
&nbsp
&nbsp
Feature Article
Become a Ufologist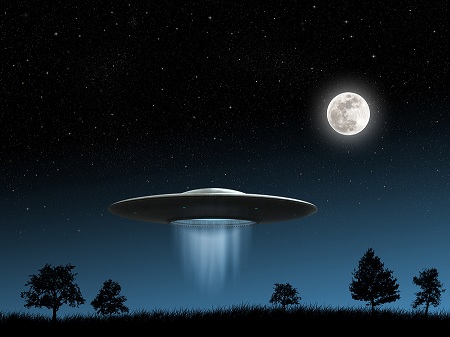 Yes, it is true that you, too, can become a ufologist. Ufology refers to the study and activities associated with unidentified flying objects (UFOs). The subject of investigations by governments and scientists over the years, investigations into UFOs have, in recent years, been relegated to private organizations and individuals.
During the 1940s and 1950s, large-scale scientific studies were conducted into the phenomenon that were popularly known as flying saucers. The term UFO was created in 1953 by the United States Air Force to acknowledge the variety of shapes that were reported. However, official research into UFOs ended, in the United States, in 1969, and ufology has not been embraced by academia as a serious field of scientific study. Many within the scientific community consider ufology to be a pseudoscience.
The field of ufology includes individuals from all walks of life, many of whom entered the field after observing such objects in the air or undergoing other experiences that led them to believe that the earth has been visited by extraterrestrial beings.
Among them are individuals with scientific credentials, such as Stanford physicist Peter A. Sturrock, astronomer J. Allen Hynek, computer scientist and astronomer Jacques F. Vallee, and meteorologist James E. McDonald.
The lack of acceptance of ufology by academia as a field of study has led to a situation where anyone can claim to be a UFO researcher or ufologist without credentials or peer review. These include radio hosts, photographers, former military personnel, police, librarians, engineers, and others, including those who claim to have been abducted by aliens.
While a form of peer review exists within the ufology community, along with training programs, the lack of an academic clearinghouse allows one claim to be as valid as another and, even among scientifically inclined ufologists, the collection of data is generally done by amateur investigators.
Organizations conducting research into UFOs rely almost entirely on contributions from the public, or membership fees, for their support. These are barely sufficient to maintain an office, and are seldom enough to pay full-time investigators. In fact, while reviewing ufology websites, it is often difficult to determine if they represent an actual organization, or merely an individual who has created a website.
Because such a small percentage of the scientific community considers ufology to be a legitimate topic for scientific study, those who study UFOs seriously do so as an avocation. Many of these individuals and organizations endeavor to adhere to scientific methods, but they do so as an unpaid activity, doing the best they can with what they have, often investing their own resources into the project.
For those who wish to become involved in ufology, there are training programs available, although none that are conducted as programs of study in major universities. Some have chosen to learn the field by joining one of several UFO organizations, and being assigned a mentor.
Perhaps the best known of the UFO organizations is the Mutual UFO Network (MUFON), which has chapters throughout the United States, and in other countries. MUFON offers an online training program, and certifies those who complete it. In conjunction with this, the organization publishes the MUFON Field Investigator's Manual, and offers identification cards, patches and other items.
Another option is the Civilian Department of Ufology (CDU), which publishes its own handbook, which includes an exam that has to be passed in order to be certified as a ufologist.
Alternatively, because there are no accepted standards in the field of UFO studies, you could create your own website, publish your own study guide, and issue your own credentials. If you're very good at what you do, you may earn a spot on late-night radio.
Recommended Resources
Evidence, reports, and various theories regarding extraterrestrial influences on earth are featured, including alien abductions, alien implants, types of species, technology, and extraterrestrial civilizations, as well as the idea that aliens may, in actuality, be demons.
http://www.alienanthropology.info/
The site features a blog and an online discussion forum on the topic of unidentified flying objects, as well as a UFO community calendar. Registration is required for participation.
http://www.alien-ufos.com/
Alieneight covers all aspects of alien encounters, offering insights as to which stories may be true and which are likely imaginative, reporting UFO sightings, and footage, its information categorized by topic. Information on becoming an author for the site is included.
http://www.alieneight.com/
CUFOS is an international association of scientists, investigators, academics, and others who are interested in the examination and analysis of UFO information, and the promotion of serious scientific interest in unidentified flying objects. Available in multiple languages, the site offers an archive of reports, documents, and publications.
http://www.cufos.org/
Located in Roswell, New Mexico, the site offers information, photograph and documentation of an incident that occurred northwest of Roswell in July of 1947, as well as links to UFO researchers and related information and resources. A gift shop is included.
http://www.roswellufomuseum.com/
Recent sightings of unidentified flying objects are published, and categorized according to continent. Other features include documentation of famous UFO case, documentaries that have been prepared on the subject, and other topics related to UFOs. An online store is also available.
http://www.latest-ufo-sightings.net/
More commonly known as MUFON, the mission of this organization is to further the scientific study of UFOs for the benefit of humanity, investigating UFO sightings and collecting the data in its database, and educating the public on the phenomenon of unidentified flying objects and their potential impact on society.
http://www.mufon.com/
Reports of sightings of unidentified flying objects can be made through the NUFORC online report form, to be added to a database which can be accessed by site visitors, along with case highlights and briefs chosen by the directors, historical reports, videos, and other resources.
http://www.nuforc.org/
Offering UFO videos, news, and reports of UFO sightings, which may be found by country or city. An interactive discussion forum is included, and UFO sightings may be reported through the site.
http://www.realufos.net/
Case files, special cases and research files on unidentified flying object reports and sightings are featured here, along with various documents on the subject, photographs of UFOs, videos, and alien files.
http://www.ufocasebook.com/
Provides in-depth research and information on the UFO phenomenon. Includes current and past UFO sightings reports, topical articles, documents and resources, UFO photographs, cases directory and discussion forums.
http://www.ufoevidence.org/
The organization collaborates in the dissemination of UFO data, which is posted online, with text descriptions and metadata. An interactive map showing reported UFO sightings is presented, along with statistical information, video, and other maps. UFO sightings may be reported through the site.
http://www.ufo-hunters.com/
The site offers photographs and video of unidentified flying objects, as well as stories of UFO encounters and sightings, as well as theoretical data.
http://www.ufopicture.org/
This niche directory offers a categorized list of links to websites whose topics relate to unidentified flying objects and other loosely related topics, such as cryptozoology, divination, and government coverups. Sites may be submitted to the directory.
http://www.ufoseek.com/
The database of UFO sightings and reports of abductions offers video and textual documentation, UFO news, and a chat area. UFO sightings or abductions may be reported through the site, and there is a feature to allow others to register their UFO sightings through other participating websites.
http://www.ufowatch.com/
Featuring both flash and HTML presentations, the site is focused on providing information about UFO sightings, UFO stories, reported encounters, photographs, video, and links to related content. A newsletter may also be subscribed to.
http://www.ufosoveramerica.com/