This category provides a guide to attorneys that specialize in family law, divorce and related legal issues.
&nbsp
&nbsp
Feature Article
How to Ask Your Fiance for a Prenup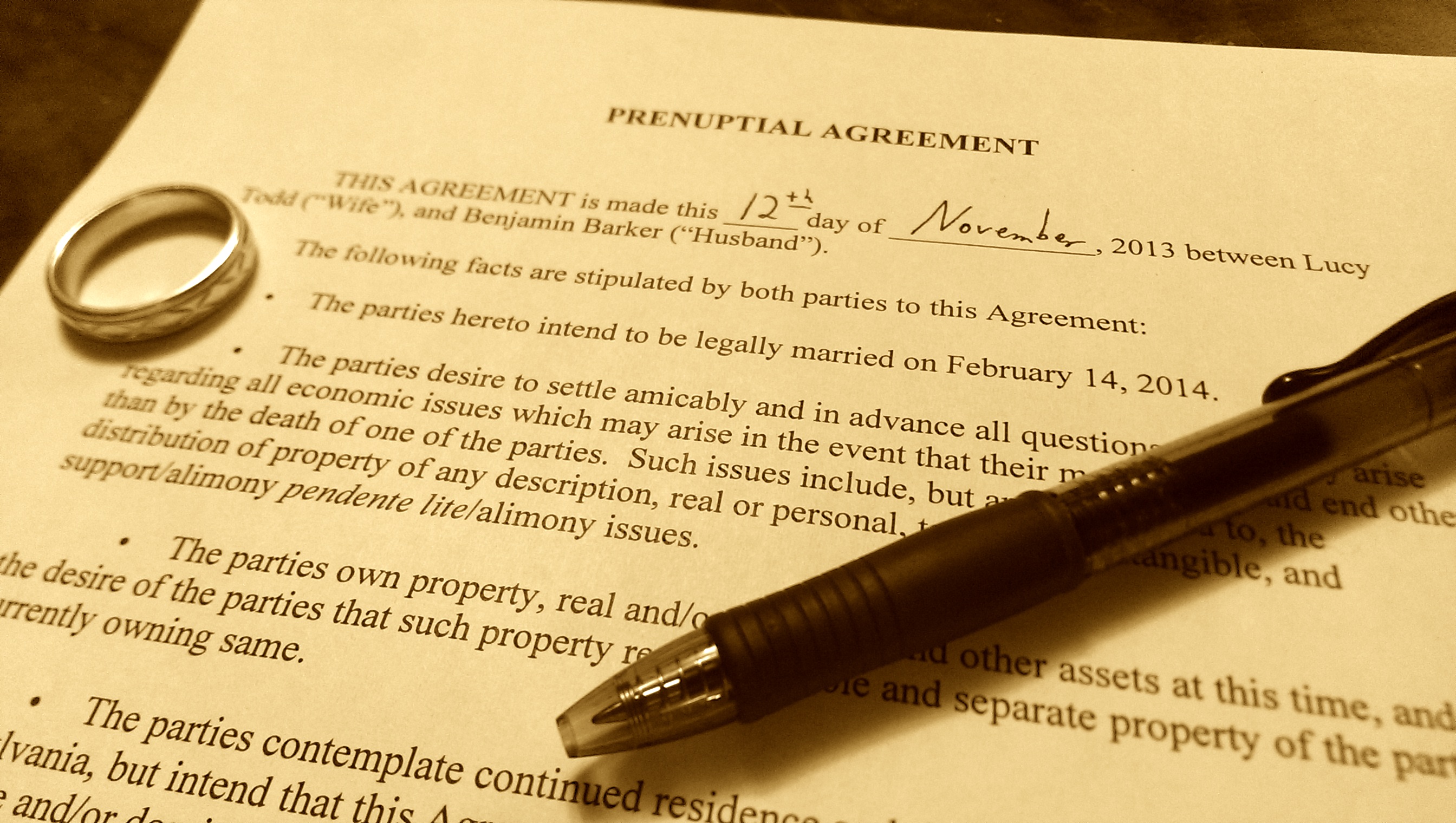 The months leading up to a wedding can be a stressful time. Not only must the bride and groom plan the big day, they're often dealing with drama from their relatives, wedding party members, and others involved with the preparations. Added to this is the pressure of combining incomes and choosing a place to live for those couples that aren't already cohabitating.

Along with all of this chaos comes the pressure of knowing that if things don't work out, divorce can be complicated. If you're preparing to walk down the aisle, chances are you don't want to think about it. Unfortunately, all too many couples have learned the hard way that skipping over this part of the thought process can cost serious money. This is where a prenuptial agreement can help.

A prenuptial agreement is a binding contract that states that if the marriage doesn't work out, each party keeps the financial assets and debts they brought into the union. Any assets and debts earned after the marriage becomes official is joint income and will be divided according to the law in that state. Here are a few tips for getting a prenup signed before your wedding.

Step One: Give Plenty of Notice
The week before the wedding is not the time to begin discussing a prenuptial agreement. You'll need time to get the paperwork together and make sure it represents the best interests of both of you. If your fiance refuses to have anything to do with a prenuptial agreement, extra time will let you decide whether you're willing to move forward with the wedding without those documents in place.

Step Two: Introduce It As a Discussion
Instead of merely telling your fiance you want a prenuptial agreement, mention the concept as something the two of you need to discuss. Try to emphasize the benefits to both of you in having such an agreement rather than focusing solely on how it will benefit you. Such an agreement can also cover how your estate and retirement plans will be handled, so if you feel the current financial aspects will be a problem, stress the long-term benefits of having an agreement in place.

Step Three: Meet with a Mediator
Some people create a prenup and hand it over for the other person to sign. That is a bad idea. Instead, sit down with a mediator and create the required documents. Since a mediator is a neutral party, you'll both be assured that you're getting an agreement that protects both of you.

A prenuptial agreement protects both spouses in a marriage. As difficult as it can be to consider your marriage not working out, with nearly half of all marriages ending in divorce, it's a real possibility for everyone. An agreement will ensure your finances are safe if someday things don't work out.

Written by Rick Oliver from The Law Office of Rick Oliver
Recommended Resources
Alexander Shunnarah Gulf Coast, LLP
The expert team at Alexander Shunnarah Gulf Coast, LLP has a long history of providing outstanding legal advice and representation to clients throughout the Gulf Coast and Southeast region. We specialize in personal injury, family law, criminal, and traffic cases, and we have experience handling a wide range of complex lawsuits and claims, including wrongful death claims, workplace injuries, social security disability, auto accidents, and more.
http://www.gulfcoastshunnarah.com/
Provides legal resources with answers to frequently asked questions (FAQs) about all aspects of family law in the United Kingdom.
http://www.askthefamilylawyer.co.uk/
Julia specializes in divorce mediation, collaborative law divorce, and family law legal consulting. She treats all parties in family law negotiations with compassion and respect. She will work with you to arrive at solutions regarding child support, custody, visitation, parenting plans, property division, debt division and spousal support issues. She is a graduate of Brown University (magna cum laude) and the University of Pennsylvania Law School.
http://www.amherstdivorce.com
Toronto divorce lawyers who can help with spousal support, child support, mediation, and more.
https://www.bakerandbakerlaw.com/
Bielan, Miklos & Makrogiannis, PC
For ethical, trustworthy, accredited, and personable lawyers Bielan, Miklos & Makrogiannis, PC are more than suited to meet your needs and exceed expectations. We promise to serve you with the utmost diligence and thoroughness required to best accommodate specific case needs.
http://www.bielanlaw.com/
Specializing in divorce law, family law, and paternity cases, the Tampa, Florida law firm handles divorce and family law issues throughout Florida, including divorce, child custody, child support, alimony, and modification. An introduction to the chief attorney and office manager is set forth, along with the firm's practice areas, client testimonials and ratings, office location, hours, telephone number, an online contact form, and an informational blog.
https://www.bchanlaw.com/
For dependable legal advice in metro Washington about business, real estate and family issues, contact Bromberg Rosenthal LLC in Rockville, Maryland.
http://www.brsglaw.com/
Bruce S. Rosenwater & Associates, P.A.
Billing itself as a law firm for life, the West Palm Beach, Florida law firm specializes in divorce law, family law, real estate, foreclosures, and bankruptcy law, which are featured here, along with its office address, a map, telephone number, fax number, and an online contact form. A consultation may be scheduled through the site. An introduction to the founding attorney is provided, along with memberships, client reviews, and an informational blog on various legal issues.
https://www.rosenwater.com/
Provides an overview of Canadian Divorce Laws in terms that are easy for a layman to understand. Topics covered include child custody, child support, spousal support, and property division.
http://www.canadiandivorcelaws.com/
The Florida law firm has offices in Boca Raton, Jupiter, and Plantation. Its addresses, a map, telephone numbers, and an online contact form are provided, and prospective clients may complete an online forum providing case details, call for a consultation, or speak to the firm through its live chat. With over twenty years of marital and family law experience, a background in economics, and knowledge of children's issues, attorney Carolina Rachel Olson prides herself on coming up with solutions.
https://www.olsondivorcelaw.com/
Comprehensive resource on collaborative divorce, including what it is, why a person would want to use it, how it helps you avoid court, how it reduces legal fees and more.
http://www.collaborativedivorce.net/
For a lawyer, Covington LA residents turn to Michael Conroy for extensive experience in family law, domestic violence, interdictions and elder abuse at the Conroy Law Firm, PLC.
http://conroyfamilylaw.com
Comprehensive divorce resource portal, including information on dividing retirement plans, uncontested divorces, saving money, common mistakes people in family law cases make, and alimony.
http://www.divorceinfo.com/
Douglas Crawford Law handles criminal law matters including drug crimes, sex crimes, DUI, violent crimes and Felonies in Las Vegas, Nevada and its surrounding cities such as North Las Vegas, Henderson, Summerlin and Southern Nevada. Mr. Crawford also handles family law cases, divorce, child custody cases, relocation of children cases, Adoptions, Termination of Parental Rights cases and personal injury matters.
https://douglascrawfordlaw.com/
Family Law and Legislation News
Web site provides the latest family law news and information, as well as changes to family legislation in the United Kingdom; complete with abstracts of key articles and commentary from family law journals.
http://www.familylaw.co.uk/
Family Law Brief provides useful information regarding all family law related topics including divorce, child custody, child support, spousal support, and more.
https://www.securitylawbrief.com/
This web site provides information about Family Law Week in the United Kingdom; complete with resources for legal questions about things pertaining to the Family.
http://www.familylawweek.co.uk/
This web site provides news about family law cases in the United Kingdom; including current information about marriage, children, divorce, etc.
http://www.familylorefocus.com/
With offices in Columbia and Franklin, Tennessee, its attorneys have decades of combined experience helping clients in complex divorce cases, including those involving complicated asset structures or high emotional conflict. We are counselors, mediators, and courtroom litigators who tailor our approach to each case in a manner that is customized to each client's specific needs and goals. Let our divorce attorneys help you achieve your aims and get started on a new chapter in your life.
https://www.franklintndivorce.com/
At Gibson Kerr, we pride ourselves on offering a high level of personal service. We will always take the time to get to know your situation and your case thoroughly as well as use our legal expertise and experience to achieve the best results for you. Get in touch if you need help with the following: • Family Law, e.g. divorce, child law, prenuptial agreements • Personal Law, e.g. wills, executries, power of attorney, financial & tax planning
https://www.gibsonkerr.co.uk/
Huffe provides an excellent overview of Singapore divorce law and divorce procedures for Singaporeans and Expatriates in Singapore. The portal also helps users find a good divorce lawyer to help them through the divorce proceedings. Huffe believes in empathy, education and empowerment, and helps spouses through the pre-divorce section to salvage their marriage, divorce section to minimize the complications of their divorce, and the post-divorce section to rebuild their lives.
http://huffe.com
Huggins Law Office handles child custody litigation, Military Divorce matters, Criminal Law matters, and Domestic Violence cases in Las Vegas, Nevada and its surrounding cities such as Summerlin, Spring Valley, Henderson, and Southern Nevada.
https://www.hugginslawoffice.com/
Johnston, Kinney & Zulaica LLP
Attorneys in San Francisco, CA with a focus on family law and estate planning for the LGBT community.
http://jkzllp.com
Specializing in family law, the Atlanta, Georgia law firm handles legal matters relating to alimony, child custody, child support, divorce, domestic violence, guardian ad litem, mediation, paternity and legitimation, property division, and prenuptial and postnuptial agreements, which are discussed here. The firm's legal team is introduced, including education, admissions, associations, and memberships, and client testimonials are included. Client forms may be downloaded.
https://www.klhffamilylaw.com/
For complex family law cases, Kirk.Drennan Law Firm in Birmingham, AL has a team of attorneys capable of finding the right solutions. Started in 2011 by Jessica Kirk Drennan, the firm handles matrimonial, family, and adoption law. Divorce, paternity, maternity, child support, and adoption cases can be difficult to navigate through and our dedicated staff strives to place the client's satisfaction above all else.
http://kirkdrennanlaw.com/
Lake Charles Family Law Lawyer
At The Johnson Firm, we have represented Southwest Louisiana clients in all fields of family law including divorce, custody, support, community property division, adoption, and those impacted by domestic violence for over 30 years. Let our experienced and knowledgeable Lake Charles family law attorneys help you through the complex legal landscape and seek justice for you and your family. Contact our office today to schedule a consultation to discuss your case.
https://johnsonfirmla.com/family-law/
Darla K. Snead, P.L. is an experienced Lakeland family law & divorce attorney.
https://www.lakelandflattorney.com/
Licensed in Pennsylvania, New Jersey, and Florida, the firm has offices in Philadelphia and Bala Cynwyd, Pennsylvania. Specializing in family law, the firm handles legal issues surrounding divorce, child custody, child support, spousal support, property division, protection from abuse and domestic violence, custody modifications or relocations, and prenuptial and post-nuptial agreements, which are highlighted here, along with an attorney profile, and client testimonials.
https://www.phillyfamilylawyer.com/
Meyer, Olson, Lowy & Meyers, LLP is one of the best Los Angeles family law firms, specializing in a variety of expertise such as family law, child custody, domestic violence, child support, high conflict custody, and more. At MOLM family law our Los Angeles divorce lawyers also specialize in annulment, family law, high-asset divorces, post-judgment, property division, prenuptial and postnuptial agreements.
https://www.molmfamlaw.com
In Orlando and all surrounding areas, Greater Orlando Family Law is here for you for all your family law needs. Whether you are going through a divorce, child custody dispute, or paternity proceeding, we'll get you through this. If you're looking to adopt your stepchildren, relocate to start a new life, or modify a court order, our team of compassionate attorneys have the answers to your questions and know what steps to take.
https://www.orlandolegal.com
The web site for this non-profit organisation of family lawyers provides information about its mandate to help improve the Family Justice System in the United Kingdom.
http://www.resolution.org.uk/
Singapore Divorce Lawyer blog is maintained by Gloria James-Civetta & Co. You will find over 300 informative blogs on the Singapore divorce process through to the final stages of settlement.
https://www.singaporedivorcelawyer.com.sg/
A premier divorce and family law firm in Missouri and Illinois in the St. Louis Metropolitan Area and beyond.
http://www.stangelawfirm.com
Offers support and information to people who are trying to save a troubled marriage or who entering into or going through a divorce.
http://www.survive-divorce.com/
Westchase Law P.A. has the skills, knowledge, experience and dedication to provide high-quality legal advice and representation to help you achieve your goals in your divorce or any other family law matter. Call our experienced Tampa divorce lawyers today.
https://www.westchaselaw.com/
Search for Family Law on Google or Bing