A dog is a canine carnivorous mammal that has been domesticated for at least 14,000 years. This category contains Web sites about dogs and living life with our canine companions.
&nbsp
&nbsp
Feature Article
Grooming Advice for Shih Tzu and other Toy or Small breed dogs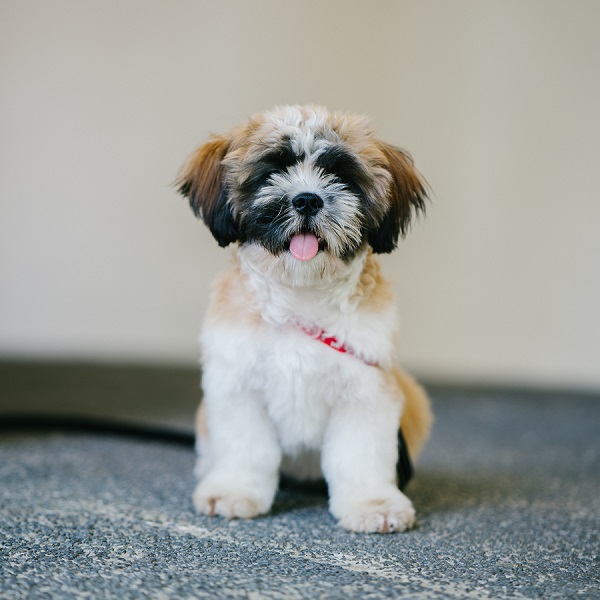 With their round heads, adorable eyes, and long, luscious double coats, Shih Tzu remain one of the most desired dog breeds in the United States according to AKC Registration Statistics. It is important to note their distinctive features in learning how to properly groom them, as they differ from many other dog breeds.

The first to keep in mind is the hair above the nose. Because it grows upward, it gives them a "chrysanthemum" face, accompanied with their large, round eyes which vary in color from dark brown to light blue. Shih Tzu are also known for their heavy underbite, one of the most well known trademarks that represent the breed.

Their muzzles lack wrinkles, and should be on the shorter end of the spectrum in comparison to other dogs. Their ears typically blend in with the body due to the amount of hair they have. Their tails are covered in a thick layer of hair that covers the entire body and can differ in color.

The Double coat

Shih Zhus' double coat is comprised of a thick undercoat and a longer, silky topcoat. Due to an abundance of hair, they should be brushed and combed daily all the way down to the skin to properly remove any tangles and mats.

Some owners prefer to clip their dogs- consequently, these require trims every six to eight weeks. Keep in mind of the following problematic areas: beneath the front legs, behind the face, thighs, and near the anus.

Consistent brushing will also help take away any unwanted matter in the dog's hair. Because Shih Tzu are well known for their long, luscious locks, it is important to keep them shiny and beautiful.

Some groomers require you to sign a waiver that states your dog may look drastically different after the haircut. To prevent the groomer from having your dog's hair completely shaved off, constantly brush and groom your dog at home.

How to groom at home?

It is important to invest in a good pair of sharp grooming scissors or in a pair of good clippers that are easy to handle and cordless, to quickly snip through your dog's hair for a quick trim.

After brushing, inspect the following areas for further maintenance: paws, ears, tail, anus, and around the eyes. Trimming your dog on a regular basis will help him stay clean and healthy.

Additionally, if the dogs toenails are not worn down by taking walks, they should be trimmed once a month. It is time to check your dog's nails when you hear his footsteps as he walks on hard surfaces. If your dog's nails grow past the paws, the pressure may be extremely uncomfortable for your dog's feet. Be extremely cautious not to cut the flesh inside the nail, as it is extremely sensitive and your dog will start bleeding.

Owners should inspect the ears every week for any signs of wax build up, irritation, or infection. To clean the ears, cleanse with water before applying cleanser. Their teeth should also be brushed weekly to prevent gum disease and tartar buildup.

How to tackle Bad breath?

If your dog has bad breath, it is likely that it is a sign of gum disease and tartar. Owners should not depend on chew toys and hard foods to keep your dog's teeth clean and healthy. It may take some work, but what is most important is your dog to be healthy.

If your dog is unaccustomed to brushing, you can also use tooth wipes to get your dog used to you taking care of his teeth, mouth, and gums. You can find many toothbrushes that are made for dogs specifically at your local pet store.

Your dog will enjoy the toothpaste's scent, and the paste will help remove any plaque from his teeth. It is best to brush your dog's teeth weekly, and make annual appointments with the vet for get his teeth cleaned professionally.

To clean the teeth, adjust the lips with your fingers and brush the teeth after applying toothpaste onto the brush. Keep in mind the teeth towards the back, as they are usually worse than those in the front. If you see the slightest sign of gum disease or infection, make an appointment right away.

How to maintain the Shih Tzu coat?

To maintain its luscious coats, Shih Tzu should be bathed every three weeks. The best way to bathe them to minimize tangles is as follows: Apply the shampoo in a downwards motion on the coat after it is wet, and continue to distribute the shampoo evenly.

Make sure to rinse the coat thoroughly, and lower the temperature down for the last rinse to remove excess product. Afterwards, use a dry towel to eliminate any water from the hair, ears, legs, and face. Using a downward motion is the best option to keep the coat from creating tangles and mats.

Next, remove any stray hairs that stick out, and make sure not to trim excessively. Use a light mist of hair hydrating spray to keep the coat nice and neat. Owners can also make an adorable ponytail by parting from the outside corner of the eye on both sides, and across the skull. Take a couple hairs from the back section and pull them to create a poof, using hair gel and spray to hold it in place.

Check the eyes

Keep in mind that most Shih Tzu have smelly faces due to stains from food and water. They also have tear stains that accumulate beneath the eyes. Their eyes are large and easily irritated, constantly secreting tears that will make the hair under the eyes wet, smelly, and brown in color. Some dogs like to wipe tear stains on bed sheets or carpets, so it is easy for the smell to linger in the house. The best solution to tear stains is to keep the hair below the eyes short.

Don't forget to...

While it is a lot of work to keep your Shih Tzu well groomed, it is very important in the long run to keep both you and your dog happy and healthy. It is always better to be safe than sorry, and all the hard work will definitely pay off in the end.

AUTHOR

Adam Conrad is the author of The Shih Tzu Expert. He is a passionate writer and a dad of 5 Shih Tzu pups. He loves to write about Dog grooming products like clippers & brushes, grooming tips, and techniques.
Recommended Resources
A nonprofit organization that maintains a purebred dog registry. The organization sanctions dog events and promotes responsible dog ownership. Includes profiles of the breeds recognized by the AKC, information about events, advice for dog owners, and a directory of clubs.
http://www.akc.org/
American Rare Breed Association
A comprehensive information resource on rare and exotic dog breeds, most of which are not recognized by the American Kennel Club. All recognized rare breeds are listed and many have full descriptions. Also contains links to breeders, shows, and clubs.
http://www.arba.org/
Looking for a dog or a puppy? Animaroo has both dogs for sale and puppies too.
http://www.animaroo.com
Bark: Modern Dog Culture Magazine
The online companion to the print magazine of the same name offers dog lovers a variety of writings, interviews, artwork, and reviews, and a forum for exchanging ideas and viewpoints on all topics canine-related. The community section features information on advocacy (including dog parks and rescue), organizations, and events.
http://www.thebark.com/
Provides comprehensive information about Bernese Mountain Dogs and is the home of the berner-l mailing list. Contains a breed specific FAQ, a checklist for breeders, a brief history of the breed, photos, related links, and more.
http://www.berner.org/
Classifieds of purebred puppies for sale. Includes a puppy finder, breed descriptions, breeder directory and customer testimonials.
http://www.breedersdirect.com
Provides a searchable directory of dog breeders. Includes related dog news and events, upcoming dog shows, dog breed index, K-9 learning center directory, photos and relevant articles.
http://www.breeders.net
Offers purebred puppies for sale direct from dog breeders. Includes a puppy finder, puppy boutique, purebred and designer breeds puppy directory, and references.
http://www.buypuppiesdirect.com
Learn about the diversity of this breed's colors. Features over 250 different Siberian Huskies and read the International Siberian Husky Club's article "Color Genetics". Also provides breed information, image galleries and links to breed specific rescues.
http://www.huskycolors.com/
Comfort Caring Canines is a non-profit organization that helps people heal by interacting with specially trained obedience dogs. You can see photos here showing how dogs can lift your spirits. You can also learn more about how therapy dogs are trained.
http://www.comfortcaringcanines.org
Cyberpet.com is your resource for dog breeders listings, purebred puppies, dog breeds, rescue groups, and dog breed pictures, cat breeders, kittens for sale, horses, horses for sale, Stalions and Stud.
http://www.cyberpet.com
Provides observations regarding the temperament and possible physical or behavioral flaws of various dog breeds. Features information on choosing and caring for a dog, training and dog behavior, and working dogs such as guide dogs and search and rescue dogs. Browse by group (sporting, hounds, herding, etc.) or breed name.
http://www.digitaldog.com/
A comprehensive dog resource center all about puppies and dogs, find dog breeders, including sections devoted to dog care, dog health and where to find puppies.
http://www.dogchannel.com
Nutritional information for dog food and reviews of different types of foods, including advantages and disadvantages of different types of commercial brands. Explains the nutritional requirements of dogs and how they differ from humans, including the foods we eat and which are toxic to dogs, such as chocolate and onions. Includes a forum to discuss opinions, information, and suggestions.
http://www.dog-food-corner.com/
The Dog Forums website is a community resource where dog owners and enthusiasts can come together to share their passions. You can also use this website to find names for both male and female dogs. There are also sub-forums on dog grooming and dog training.
http://www.dogforums.com
Provides information on spaying and neutering pets. Also offers pet and animal related quotes, proverbs, idioms, superstitions, clip art, fun facts, humor, and fonts.
http://www.doghause.com/
Discover all that's involved in fostering a healthy dog through each stage of its life. Features information on dental care, controlling fleas and ticks, safety, caring for puppies and senior dogs, and managing weight. From the publisher of Dog Fancy magazine.
http://www.dogchannel.com/dog-health/dog-health.aspx
Company offers custom laser engraved dog ID tags, as well as luxury collars and other dog accessories.
http://www.dogids.com/dogidtags.html
Dog News: Weird, Inspiring Dog Tales
The author of this site encourages readers to 'paws' to enjoy current dog news. In addition to unique and entertaining news items that canine aficionados will enjoy, this site includes links to other doggy blogs.
http://radio.weblogs.com/0107233/
Features breed profiles, training tips, health information, and articles about shelters, rescue, dogs and the law, and just about everything else you need to know about living with your dog. Topics include manners, behavior, house training, aggression and specific training problems.
http://www.canismajor.com/dog/
Teaches hour to recognize and get a good grasp of the underlying reasons for problem behavior in dogs with the goal of helping to develop your dog's full potential. Offers informative articles, dog obedience training books, a dog directory and video.
http://www.dogproblemsolutions.com/
Dog owner resource that provides dog breed description, information and pictures. Includes breed guides, dog articles articles on the Dog Den, dog breeders search directory, and dog service and veterinarian directories.
http://www.doggies.com
This is an Internet community that includes dog owners, trainers, breeders, businesses, and organizations. Offers feature pages, classifieds, and forums.
http://www.doghobbyist.com/
Features a new cool dog site of the day. The selections range from professional pages to the musings of owners about their pets. A best site of each month is chosen by the site's visitors, and the archives go back three years.
http://www.dogmark.net/
Features a directory of parks and other places in the United States and Canada where dogs are welcome to roam free and play off-leash. Also includes advice on choosing and caring for your favorite canine companion.
http://www.dogpark.com/
Information on dog breeds from rec.pets.dogs. This archive contains Usenet FAQ postings in HTML format and in text format. Search FAQs by author and by archive name listings.
http://www.faqs.org/faqs/dogs-faq/breeds/
Dogster lets you view, share and save photos of dogs, search by breed, size, name, hometown and more. Provides background information,photograhps and a biography for each dog. Also includes an advice column.
http://www.dogster.com/
Provides information on finding, caring, and training puppies and dogs. Includes discussion forums, dog adoption guide, local pet businesses directory, product reviews and tips for traveling with pets.
http://www.dogtime.com
Everything About Old English Sheepdogs
Extensive resource about Old English Sheepdogs. Includes a busy public Sheepdog forum, photo galleries, medical information, links to breed specific rescue organizations, pictures, and merchandise.
http://www.oes.org/
Forever Love Puppies offers puppies for sale in Miami, Pembroke Pines, Aventura, Kendall and other South Florida locations. Large selection of puppies. Helpful breed information on all the major breeds, and great service!
https://954puppies.com
A kid's guide to dog care, training and tricks. Includes fun riddles, stories, poetry, games to play, information about the best books and a photo gallery to teach kids all about dogs. Kids of all ages and their families will learn about dog care and training.
http://www.loveyourdog.com/
Humane Society of the United States: Dogs
The Humane Society of the United States offers a variety of informational texts, video, and news about dogs, as well as the organization's work in pet food safety issues, microchipping, and other resources.
http://www.humanesociety.org/animals/dogs/
Information about a proposed memorial to be located in Washington D.C. to honor and recognize the more than a hundred thousand of our country's War Dogs for their service and sacrifice for our nation's freedom during all Wars; past, present and future. Includes the stories of many of the K9 heros and handlers. Shows an image of the bronze statue that will sit on a bronze base of the proposed National War Dogs Monument.
http://www.nationalwardogsmonument.org/
In this companion Web site to the NOVA program Dogs and More Dogs, learn about the diversity of dogs, explore their geographic origins, and get to know working dogs and their jobs. Features articles, photos, a book excerpt, interactive features on working dogs and dog breeds, a teacher's guide, and related links.
http://www.pbs.org/wgbh/nova/dogs/
Pet Connect showcases puppies for sale by dog breeders nationwide. Many dog and puppy breeds for sale.
http://www.petconnectonline.com
Designed for law enforcement professionals, this searchable website includes consultants for K9 police work, case law, forum, associations and agencies using dogs, standards, a list of officers and dogs killed in action, related links, and more.
http://www.policek9.com/
A place to share dog pictures, search adoptable dogs, find dog training information and chat with other dog owners in a dog forum.
http://www.pupforum.com/
Provides information on puppies and dogs for sale and information for dog breeders. There is also advice on how to introduce a new dog into the household and other directions.
http://www.puppydogweb.com
Looking to buy a new dog or puppy; make sure you try this website. You can search for a dog by entering the breed you're interested in or searching by size and level of upkeep needed. The website lists the gender, weight and price of each listed dog.
http://www.puppyfind.com
Provides a guide to dog day care, dog kennels, dog boarding and pet sitting in the United States and Canada.
http://www.setiadogs.com/
Your online guide to small dog breeds. Over 170 dog breeds listed in our database with information on dog breed characteristics, colors, temperament, and much more!
http://www.smalldogbreeds.co.uk
Provides a directory of puppies and dogs that are for sale, for adoption or for rescue. You can also research dog breeds here, or find a dog breeder, look out for dog names and dog articles or shop for dog supplies.
http://www.terrificpets.com
Anne and Paul Vaudin of the parish of Torteval, Guernsey, in the British Channel Islands, offer this site as a tribute to the Irish wolfhounds they have shared their home with over the years. Its content includes several photographs, video, poetry, and other resources.
http://www.irishwolfhounds-guernsey.com/
An organization that supervises competitions in which dogs catch flying discs thrown by humans. Includes a list of international events, judging criteria for "toss and fetch" and "freestyle" competitions, and training material. Also includes links to local disc dog groups in the U.S.
http://www.usddn.com
Official website for the Westminster dog show, started in 1877, held every February in New York. Learn about the history of the dog show, details about the current year's show, results, judging videos and records. Includes and introduction to dog shows, breed profiles, and related material.
http://www.westminsterkennelclub.org
Breeder of distinctive American Brittanys for home and field.
http://whiteswanbrittanys.com
Woof! - Training and Understanding Your Dog
Provides tips for training your dog, addresses behavioral problems, and answers common questions about canines. Explains why dogs behave the way they do and provides instructions on how to train or correct your dog. Affiliated with the PBS show WOOF!
http://www.pbs.org/wgbh/woof/
Working Dogs Article Archives: Herding
A collection of articles about herding dogs including the German shepherd dog breeds. Topics include history of sheep-tending dogs, training techniques, competitions, and more. From Working Dogs Cyberzine.
http://www.workingdogs.com/articles_herd.htm
Provides guides and advice on caring for purebred dogs, crossbred dogs and mixed breed dogs. Includes dog training articles, dog bred reviews, dog health articles, personal consultations, and information on choosing the right dog.
http://www.yourpurebredpuppy.com
A collection of vegetarian dog food recipes, including "Beagle Bagels," "Canine Corn Bread," "Terrier Tea Cakes," and more. Also includes a few bird and wildlife recipes. Tips on how to bake and sell dog biscuits to raise money for local animal shelters.
http://www.yummyfordogs.org/
Search for Dogs on Google or Bing