Wallace, Michigan is situated along United States Highway 41, about six miles south of Stephenson and fifteen miles north of Menominee.

Unincorporated communities in Michigan don't have legally defined boundaries, but people who live anywhere in Mellen Township are apt to consider themselves to be either in Wallace, Ingalls, or Carbondale, and those in the southern part of the township would receive mail through the Wallace post office.

The chief route through the community is US-41, which runs north-south. County Road 577 and Country Road 338 (Range Line Road) also runs north-south, on either side of US-41. Other country roads run east-west.

Michigan cities and villages within fifty miles of Wallace include Stephenson, Daggett, Menominee, Carney, Powers, Escanaba, and Norway, while the unincorporated communities of Carbondale and Ingalls are within five miles. Wisconsin villages, towns, and cities within fifty miles of Wallace include Wagner, Marinette, Porterfield, Wausaukee, Peshtigo, Crivitz, Grover, Peshtigo Town, Amberg, Athelstane, Stephenson, Beecher, Beaver, Little River, Pound Town, Pembine, Oconto, Silver Cliff, Brazeau, Pensaukee, Dunbar, Stiles, and Niagara.

The Menominee River, Little River, Bad Water Creek, Hanson Creek, Kelly Creek, and Hanson Lake are within the area known as Wallace.

Wallace is a small town with fewer than a hundred people living in the central area of the town, surrounding the intersection of US-41 and County Road 342 (G-08 Road), and perhaps a few hundred others who live off of one of the county roads in the rural areas.

Like many other dots on the map, Wallace has a post office, a few churches, an IGA store, a gas station, a bar, and some small wood-product industries. There is also a small manufacturing company operating out of the former elementary school.

However, Wallace has something not seen in most dot-on-the-map communities, and that is a zoo. I'm not talking about a few sad animals in cages, either. The DeYoung Family Zoo features large natural habitats, educational programs, and animals from all over the world, including, but not limited to, alpacas, camels, dingos, hippos, kangaroos, mountain sheep, and big cats, as well as animals native to Michigan, such as bear, coyotes, deer, and some barnyard animals.

Although there were people living in the area prior to that time, reportedly Wallace had its beginnings as a community around 1870, when the Chicago & Northwestern Railroad offered land to Mellen Smith if he would cut its timber and ship it by rail. Taking them. up on this offer, he led in the organization of the township that would be named for him.

So where did Wallace get its name? When the railroad came through, they established a depot in Wallace, and the agent they assigned to the depot was Wallace Sutherland, and the depot was known as Wallace's Siding. A post office was established on January 30, 1877, with Mellen Smith as the first post office, and the post office shortened the name of the community to Wallace.

Many of the early settlers in Wallace were Swedish immigrants. They included Andrew Oleson, and Carl and Nela Oleson, who came in 1880. The following year, the Nels Anderson family, Andrew Newlin, and Beda Gustafson came.

In 1882, Andrew Newlin and Nels Anderson organized a Sunday School that met in the Aaron Brander home. In September of that year, the Sunday School was organized as the church called Mission Church, and is currently known as the Bethel Covenant Church, which I believe to be the first church in the community. It was soon followed, in 1883, by the Swedish Lutheran Church, which is now the Gethsemane Lutheran Church. In 1887, a Methodist congregation was formed, although it did not survive. More recently, the Country Bible Church was founded.

Wallace was never incorporated as a village, and it has never been a large community. Once the lumber industry declined, agriculture became the mainstay of Wallace and the surrounding township. Today, you'll still find a few working farms, but most of its agricultural fields have returned to woods, or have been developed into residential lots.

I grew up in Wallace, and I visited Wallace about six months ago. The roads are in worse shape than I remembered them, and there are more trees, fewer farms, and hardly any families with children.

This portion of our web guide focuses on the small community of Wallace, Michigan. Although Wallace doesn't have many of these, and some of those that are there don't have websites, appropriate topics for this category would include any businesses, industries, schools, churches, organizations, attractions, events, entertainment venues, and recreational opportunities.
&nbsp
&nbsp
Can I Go Home Again?
Wallace, Michigan: My Home Town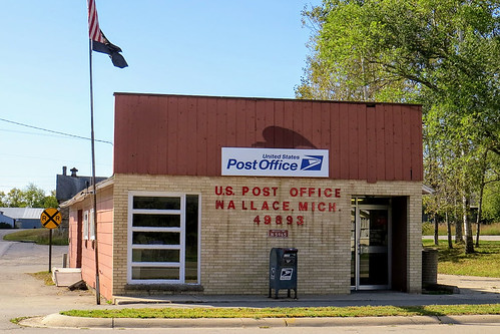 To most people driving by on US Highway 41, Wallace, Michigan would be little more than a dot on the map, with a small post office, an IGA store, a bar, and maybe a lumber yard, if it's still open.
To me, Wallace is home. Although I haven't lived there since shortly after I graduated from high school and the home place burned to the ground shortly afterward, this is where I was raised. I grew up about a mile from the town proper, but all of Mellen Township was considered Wallace.
Here, I attended school through the eighth grade, although the school is now gone. It was reduced to a K-4 campus, and then a K-2 campus, before closing altogether. The building is still there, but it's some kind of a manufacturing plant now, I think.
With few children in Wallace these days, I don't suppose kids are building forts in the woods, or trying to maneuver a homemade raft down the Little River, which proved not to be very practical, given that the Little River is more of a creek, and a small one at that. We called it a crick.
One of my brothers still lives in Wallace, on land that used to be the family dump. I was hope visiting in July of 2022, and I didn't see any kids walking down the road. My brother says that there is only one kid in town now, and he's nearly fifteen. So kids don't swim, or catch snakes at the cement bridge anymore.
It seems to me that Wallace is more rural now than it was in the 1950s and 1960s, when I lived there. In some ways, I suppose it is, but the houses are bigger and fancier. Oh, they're not fancy, but there are few farmhouses anymore, and the barns aren't filled with hay anymore.
Wallace once fielded a fairly large Boy Scout Troop, a Little League Baseball field, a Babe Ruth baseball field, another one that was used for both baseball and softball at the Wallace County Park, plus the field at the school. There is still a field at the county park and, if I remember correctly, the Babe Ruth field is still there, but it looks like hasn't been used in several years. That makes sense, I suppose. It's hard to field a team with one kid.
My last trip to Wallace was on the 4th of July. The Bethel Mission Covenant Church, just up the hill from where I used to live, was celebrating its 140th anniversary. No one said as much, but I got the feeling that the church isn't doing so well these days, and this saddens me.
Growing up in Wallace, I was related to nearly everyone I knew until I started high school in Stephenson. Today, a few relatives are still hanging on but I don't think I know very many people in Wallace anymore. I wouldn't know, however, because people don't out of their houses anymore. That's more of a kid thing, and there aren't any.
I work from home now, so I have been thinking strongly of selling my camp, land, and home in Maine, and moving back to Wallace. It was a great place to grow up, and I think it would be a great place to retire. They say you can't go home again, but I'd like to try. I don't know if I'll be able to pull it off, though. Real estate prices are awfully high in Wallace these days.
Recommended Resources
Based in the former Mellen Township Elementary School building in Wallace, Michigan, ABS is a designer and manufacturer of material handling, blending, and controls for the plastics industry. Its corporate and mailing addresses are posted, along with a telephone number and an online contact form. Its products and services are described, with photographs, downloadable literature, and options, when available. Career opportunities are posted on the site and quote requests are available.
https://adv-blend.com/
Situated along US-41, across from the Wallace County Park, the Country Bible Church is a non-denominational, self-governing congregation. Directions and a map are provided, along with a calendar of events, an overview of its ministries and programs, a statement of beliefs, and an introduction to its pastors and deacons. Also included are a church bulletin, pastoral and missionary updates, sermon archives, and a private area for members. Contributions to the church may be made online.
https://www.cbcwallace.org/
In contrast with most zoos in the United States, the DeYoung Family Zoo is located in the rural Upper Peninsula community of Wallace, Michigan. Featuring animals from all over the world, as well as a selection of those which are native to Michigan, housed in a natural setting, the zoo allows families and children to experience these animals in ways not experienced in big-city zoos. Its location, hours, and contacts are provided, along with program schedules and a feeding menu.
https://thedeyoungfamilyzoo.com/
With locations in Stephenson and Wallace, Michigan, the Wallace location includes a venison processing plant. Its locations, an overview of its services, and contact numbers are published on the site, which includes weekly advertisements and recipes, and information about its bakery department and meat processing services. Also included is a weekly circular, specific to the store, and the availability of an online personalized shopping list. Customers may register for alerts.
https://www.garysqualityfoods.com/
A congregation of the Northern Great Lakes Synod and the Evangelical Lutheran Church in America (ECLA), the Gethsemane Lutheran Church in Wallace, Michigan shares a pastor and website with St. Stephen's Church in nearby Stephenson. Both churches are featured here, and the history of the Wallace church is provided, along with a list of pastors who have served the church. Service and program schedules are provided, along with several photo galleries, and a map and contacts are provided.
https://www.gsslutheran.org/
Also known as Mellen Cemetery and Wallace Cemetery, the cemetery is located along G-08 Road, east of US-41, and the railroad tracks. Its location is shown on a map, and photographs of the cemetery grounds, as well as gravestones of people interred there are displayed, and additional photos, transcriptions of memorial stones, virtual flowers, and obituaries may be uploaded by visitors to the Find a Grave website, which may also include cross-referencing with other family members.
https://www.findagrave.com/cemetery/1057/mellen-township-cemetery
Affiliated with the Wisconsin Evangelical Lutheran Synod, Holy Cross Lutheran Church in Daggett, and St. Mark in Wallace, Michigan are separate congregations sharing a pastor and united in their teachings, with special services shared between the two churches. Located along County Road 338, a map shows the location of St. Mark, along with summer and winter schedules, PDF sermon archives of recent sermons, as well as audio files for most. Contacts are provided.
https://holycrossandstmark.org/
Search for Wallace on Google or Bing