Bigfoot is perhaps the largest cryptid reported in North America, but similar creatures have been reported elsewhere around the world, and it is not a new phenomenon. The Canadian version of Bigfoot is Sasquatch, with a longer history than Bigfoot. A part of Native American legend, its name appears to have been coined by J.W. Burns, a teacher who combined similar Native names for the creates to form the word "Sasquatch." Today, cryptozoologists in the Pacific Northwest have taken to using "Sasquatch" rather than "Bigfoot" because the name has more of a serious note, but most Americans still know the creatures as Bigfoot. In the 1950s, Bigfoot got its name when a foot cast was made of the large tracks found in the California mud. Newspaper editor, Andrew Genzoli, introduced the word "Bigfoot" when he published a column about the tracks. Bigfoot is most often seen in the Pacific Northwestern region of northern California, Oregon, Washington, and Idaho, while Sasquatch inhabits the far western Canadian region of British Columbia and Alberta, with some reports coming from as far north as Alaska. The creatures are not limited to the northwestern American continent, however. Known as the Skunk Ape, a similar hominid cryptid has been reported in Florida, North Carolina, and Arkansas, and the Ohio Grassman is described as a Bigfoot-like creature. Also known as the Southern Sasquatch, the Fouke Monster was reported near the town of Fouke, Arkansas. The Northwest Territories of Canada has the Nuk-luk, which is described similarly, although somewhat smaller than Sasquatch. The folklore of Nepal speaks of a similar creature known as Yeti, or the Abominable Snowman, which is supposed to inhabit the Himalayan region of Nepal, Bhutan, and Tibet. Locally, the creature might also be known as Meh-Teh. Central Asia has Almas, the Philippines has Amomongo, Bangladesh has Ban-manush, South America has Mapinguari, Australia has the Yowie, and Russia has Menk. There are others, as well.
&nbsp
&nbsp
Feature Article
Why Are Sasquatch Photos Always Blurry?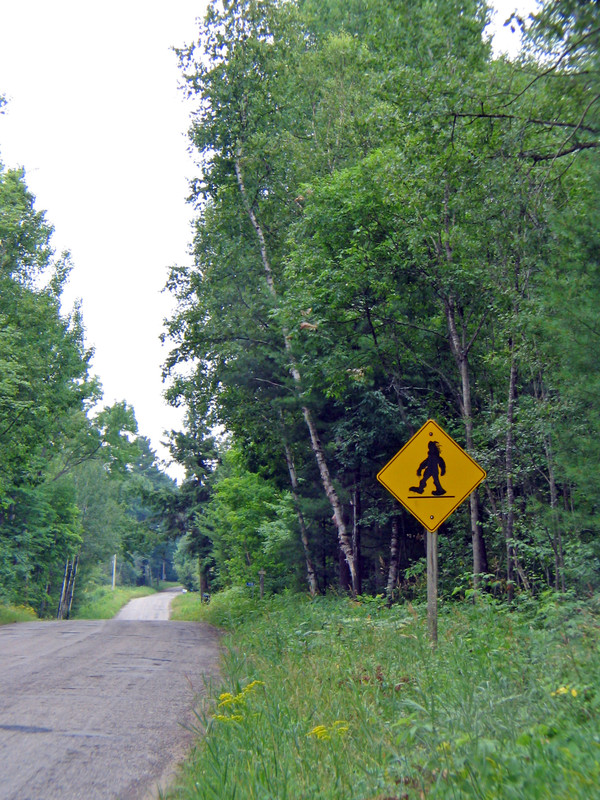 Have you noticed that whenever a photo or video of a Sasquatch is released, it's so blurry that you can't really tell what it is that you're looking at? I will admit, up front, that I'm a skeptic, but the absence of a clear picture of a Sasquatch doesn't help.

They are known by several different names, depending, I believe, on which part of the world they are reportedly residing. In the Pacific Northwest region of North America, where they are most commonly reported, they are known as Sasquatch or Bigfoot, although sightings have been reported throughout the United States, wherever large areas of wilderness exist. When seen in the Himalayan region of Nepal and Tibet, they are known as Yeti or Abominable Snowmen.

However, one thing that is common of Sasquatch, wherever they are seen, is that they are not very photogenic. Other than some that appear to be obvious fakes, every photograph or video recording of a Sasquatch is out of focus. It is often necessary for someone to draw an outline of the creature on the photograph in order for anyone to even be able to determine where it is supposed to be. Even when the creature is shown standing still, the photo is blurry or out of focus.

Skeptics refer to such photos as blobsquatches. They make fun of such photos, pointing to them as evidence, not of the existence of such creatures, but to the contrary. With all of the Bigfoot hunters roaming the woods with cameras and video equipment, it would seem that someone would be able to produce a clear picture.

However, only a few years ago, I was at Baxter State Park, not far from my home in Millinocket, Maine, with my nephew. We came across a very large bull moose standing along the banks of a pond. I took a few pictures of the moose from our position on the other side of the pond, then we decided to cross the pond on a beaver dam, to see if we could get some closer photos of the moose.

As we were working our way across on the beaver dam, I could see the moose, not moving away from us but coming closer to us, as if to meet us through some trees. When we were about three-fourths of the way across the pond, I could see the moose standing in some trees watching us. I decided not to go any further. Since he was obviously not afraid of us, I thought that perhaps we should be afraid of him.

Besides, I could clearly see him in a small stand of trees, standing still, watching us. I snapped several more pictures of the moose before we made our way back the way we had come.

Later, when I uploaded the photos to my computer, I found that, while the photos I had taken across the pond were clear, the ones that I took of the moose while he was standing amongst the trees were not. It wasn't blurry, but neither could the moose be clearly seen in the photographs, as this huge animal blended in with the trees so well that I had to point him out to people, showing them where the antlers were, and so on.

Although I could see the moose clearly with my eyes, no one could find him in the photo without my interpretation, and it wasn't very convincing.

In a blog post on North American Great Ape, the author acknowledges that blobsquatches dominate the world of Bigfoot pictures, but goes on the explain the difficulties in photographing effectively in the forest environments of North America, particularly the dense forests of the Pacific Northwest.

He shows a photo of a forest that isn't particularly dense, nor is there much in the way of underbrush. Yet a six-foot person in a bright green shirt cannot be seen, although he is in the center of the photo, only eighty feet from the photographer. In a closeup photo, he can be seen, but the image is blurry, much like the blobsquatches, and not entirely unlike the bull moose that I photographed in the woods of Maine.

Still, with all of the wildlife cameras that are available, activated by motion and body heat, it seems reasonable to believe that at least one clear photo of a Sasquatch would have emerged from all of the cameras that are in the woods today.

Perhaps, as another writer suggests, the problem is that Bigfoot is blurry. It's not the photographer's fault. "Bigfoot is blurry," he writes. "And that's extra scary to me, because there's a large, out-of-focus monster roaming the countryside. Run! He's fuzzy. Get outa here!"
Recommended Resources
Established in 1971, the group is focused on researching the existence of Bigfoot in Alabama. Recent sightings are reported, and may be reported through the site. The Society's services, projects and programs are discussed, and artwork depicting Bigfoot is featured on the site. Other topics include a church that combines Christian, Native American and Nature religions. From time to time, articles are offered for sale, and may be purchased online.
http://www.alabamabigfootsociety.com/
A general overview of the biology of the sasquatch is presented here, with articles about hominids, fossils, origins, and biological information. Other features include reports of sightings and encounters, videos, images, sounds, films, legends, interviews, hoaxes and rumors. Biology, scientific papers and field reports on Bigfoot are featured, along with book and movie reviews, and an exhaustive list of names by which Bigfoot-like creatures have been known.
http://www.bigfootencounters.com/
Bigfoot Field Researchers Organization
Represents a scientific research organization focused on the exploration of the mysteries surrounding the existence or non-existence of bigfoot. Its site includes a sightings database, accessible by recently added reports, by region, media articles, and early legends surrounding bigfoot, sasquatch, or yeti. Other resources include hypotheses and projects, as well as video clips, photographs, audio files, and an online discussion board.
http://www.bfro.net/
This guide to finding Bigfoot features sightings reports, a map showing where the creature is reported to have been, facts about the cryptid, tips for surviving an encounter, and a list of supplies and equipment to bring along for both day and night expeditions. Essays on the topic are published to the site, and any sightings of Bigfoot may be reported here.response, and research videos are included.
https://bigfootfinder.com/
Offering articles and Bigfoot sightings reports, as well as information relating to finding Bigfoot, podcasts, webcasts, and photographs. Its information can be found through its labels section, which lists content by topic or author, and more popular posts are highlighted. Other resources include an online store carrying Bigfoot tee-shirts, coins, gifts, and other items. Advertising opportunities may be available.
http://www.bigfootresearchnews.com/
KBRO is a research group that hopes to prove the existence of the creature known as Bigfoot and, if so, to protect them. Credible Bigfoot sightings are documented and added to its database, monitoring the suspected population density and behavioral patterns for encounters. Photos, video, audio, and other media are featured, along with a profile of the organization. Reports may be submitted or viewed online, with new reports highlighted.
http://www.kentuckybigfoot.com/
Formed by members of the former Pennsylvania Bigfoot Society and the Keystone Bigfoot Project in 2016, the KBP's history goes back to 1998. The new combined organization conducts investigation, documentation, and education related to Bigfoot. Anyone having a Bigfoot encounter in Pennsylvania is encouraged to report the sighting to the project, and personal details will be kept confidential. Sightings are arranged by county, and membership information is presented.
http://www.pabigfootsociety.com/
North American Wood Ape Conservancy
The tax-exempt, non-profit, scientific research organization is made up of volunteer investigators, scientists and naturalists who pursue education and research activities relating to the "wild man" or "hairy man" phenomenon in North America, with the supposition that the source of the reports is an unlisted large great ape which others are mistakenly referring to as Sasquatch or Bigfoot. Incident reports by region are included, and its outreach activities are highlighted.
http://woodape.org/
While based in Oregon, the site is a repository of Bigfoot sightings come from all over the United States and Canada, including reports from books, web sites, personally gathered reports, and reports that have been submitted to the site. A sightings database, photos, video, and audio are included, along with a section on art, collectibles, books, and DVDs, some of which are available for purchase online. Recent updates are highlighted, and a blog is also included.
http://www.oregonbigfoot.com/
Established in 2009, the organization and web site offers current and historical information on Sasquatch and other homins, its chief objective being to involve more science in its research, and to resolve questions about the legendary creature known as Sasquatch or Bigfoot. Featured is a gallery of photographs, sightings reports, and recommended books. A schedule of events, and access to electronic books are available through the site.
http://www.sasquatchcanada.com/
Created by Wes Germer in 2013, after he and his brother found themselves surrounded by several Bigfoot in the foothills of Washington, the web site is intended to supplement his podcast, which discusses Bigfoot. Three membership packages are available, those being monthly, six months, or annual, which allows the subscriber to view one hundred percent more content each week. Current episodes are highlighted, and a blog is included, along with a shopping area.
https://sasquatchchronicles.com/
Purporting to have DNA proof for the existence of Sasquatch, the Project claims that tests on the mitochondrial DNA of Sasquatch indicated that it was human, but that nuclear DNA testing proved it to be an unknown hominid, given the scientific name of Homo sapiens cognatus. Its testing methods are described here, along with supplemental raw data, independent supporting data, and video. The scientific team, groups and submitters are introduced, along with peer reviews and author replies.
http://www.sasquatchgenomeproject.org/
The organization researches and tracks sightings of sasquatch/bigfoot nationwide, offering a database of hundreds of reports from all over the United States, categorized by state for ease of use. Alternatively, its database may be searched by country, state, nearest city, season, or category. Field photos are included. Several articles about the cryptid are included. Sightings may be reported to the organization through the site, and various research tools are featured.
http://www.bigfootinfo.org/
Sasquatch Investigations of the Rockies
SIR is the only bigfoot research organization that originates in Colorado. Focusing its work on the Rocky Mountains, all of the evidence and field reports it supplies on its site is its own and from Colorado. Its investigation team is introduced, and information about its gear, research projects, evidence, and field reports are included. Those with evidence to report may file a report online, and interested visitors may opt to be notified when new evidence is posted.
http://sasquatchinvestigations.org/
Sasquatch Research Association
Founded by researchers in the Midwest of the United States, the SRA seeks to develop a community of sasquatch researchers dedicated to field research, and to the support of the research and witness communities. Through its site, it disseminates information on the North American sasquatch, offering information and speculation as to its biology and its place in the ecology, as well as its behavior. Evidence and reports are posted and an online discussion forum is included.
http://sasquatchresearchers.org/
Owned by Bigfoot Project Investments, with stock symbol BGFT, Searching for Bigfoot responds, researches, interviews, investigates, and analyses reported sightings, encounters and evidence of the Bigfoot creature, also known as Sasquatch, across the United States, Canada, and elsewhere. Membership and investment information are put forth, and live Bigfoot shows may be viewed online or purchased, along with other products.
http://www.searchingforbigfoot.com/
The alleged skunk ape is a cryptid, thought be many to be related to Bigfoot, while others believe that the skunk ape is actually a pongid, or Great Ape, also known as Napes, which supposedly hide in muddy, abandoned caves, and are believed to create an awful skunk-like smell, for which they have been named. While Bigfoot sightings tend to be in the northern areas of the United States, and elsewhere, skunk ape sighting are usually in the southern United States.
http://www.skunkapes.com/
Dave Shealy spends most of his time in the Big Cypress Swamp searching for the Skunk Ape when he is not maintaining his Trail Lakes Campground in the Florida Everglades or appearing on national television shows. Information about he cryptid's diet and habitat are posted, and information about searching for the Skunk Ape is provided, including periodic guided expeditions. Photos and contacts are featured on the site.
http://www.skunkape.biz/
Sasquatch (Bigfoot, Yeti, Abominable Snowman) reports and related information from the United States and Canada are featured here. Arranged chronologically, its content may also be located by U.S. state or Canadian province. Reports vary from reported encounters to video, photographs, and information about or from Bigfoot research organizations throughout North America. The source of the report is given, when available. Recent reports are highlighted.
http://www.squatchable.com/
Powered by Invision Power Services, the online discussion forum is dedicated to the discussion of the cryptozoological phenomenon known as Bigfoot. While anyone may peruse forum content, only registered members may create threads and respond to posts. Topics include general Bigfoot discussion, film, video, photos or audio, sighting reports, media attention, field research, conferences, symposiums and other get-togethers, as well as a premium access area that may require a fee.
http://bigfootforums.com/
Presented by Kewaunee Lapseritis, who considers himself to be a crypto-anthropologist rather than a cryptozoologist, as he believes that Sasquatch are people, not animals, the site presents a view of Sasquatch as having a UFO connection. His books are offered for sale online, with synopses and other details provided. Other resources include video of interviews and talks that he has given, and a biography of the author.
https://sasquatchpeople.com/