in Interviews
31 Comments »

Business.com is one of those directories that everyone has heard of, but most people know little about it.  Even being in the directory industry myself, I knew very little about this premium directory.  I wanted to know more, and fortunately, Jessica Bowman, the Director of Search Engine Optimization at Business.com answered all of my questions.
1.  Please provide a brief biography so that my readers know who you are.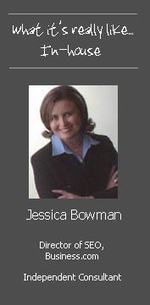 I joined the Internet bandwagon in 2000 as a usability architect and made my way to search engine marketing in 2002.  After nearly 10 years at Enterprise Rent-A-Car, I moved to Los Angeles last fall and started working for Business.com. I'm an in-house SEO and write for Search Engine Land, Search Engine Watch and Search Engine Journal.  In the few non-working hours, I love the theater and foreign travels.