17:
Add a 60 pt icon next to your content, refer to step ten. Remember to match the icon with your content or section.

18:
Below your Product summary, add an overview. To be organized make sure to create different sections in different layer sets with custom names.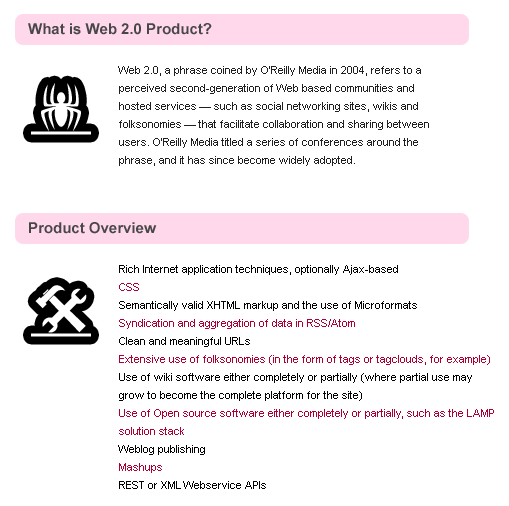 19:
Next to your product info, add a description of your company. The pencil icon can be made by typing "!" using font Wingdings, 60 pt, crisp and #FFFFFFF for color.
In your layer palette add the following layer styles:
Stroke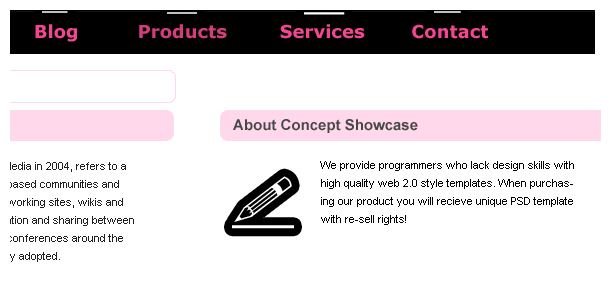 20:
Now set up another layer set for your costumer testimonials section.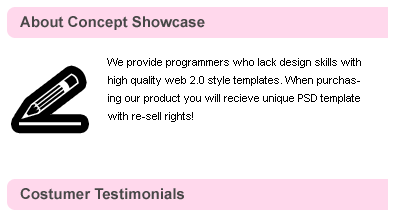 21:
Add two quotations, refer to step 10 for icon instructions. The size of quotations are 60 pt.
In your layer palette, set layers opacity level to 9%.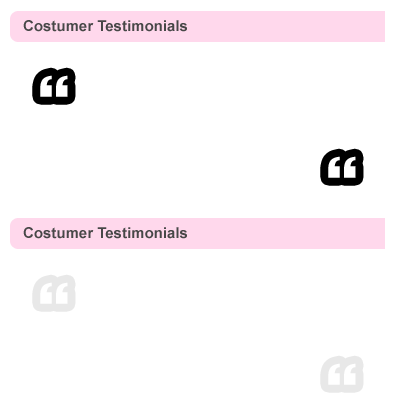 22:
Add your testimonial content.

23:
Add another set of your testimonial content.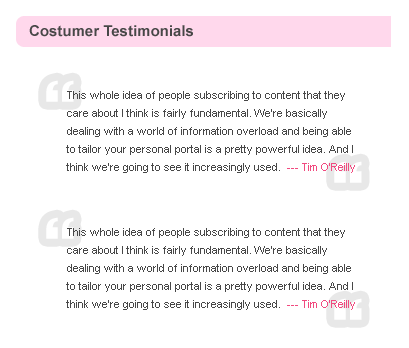 24:
Below your product overview section, add your copyright info under a new pink tab.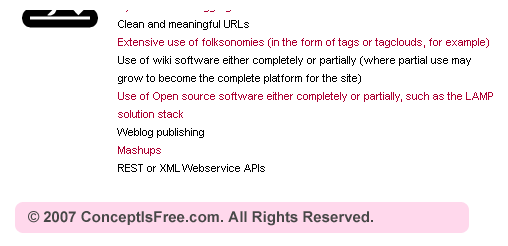 3 Responses to "Online Product Design"
Dhoomsms.com » Blog Archive » Online Product Template Design Says:
May 31st, 2007 at 6:38 am

[…] Go to Tutorial […]

dmsuperman Says:
June 25th, 2007 at 2:46 am

Look right in the template's full view, it even says that web 2.0 has to do with social networking and the type of content the site has to offer. I like this design, but the design of a site has NOTHING to do with being web 2.0. Web 2.0 just means it's more user driven and interactive, which doesn't have dick to do with being a plastic website.

admin Says:
June 25th, 2007 at 7:20 am

Web 2.0 is also a style in designing = Simplicity.
Leave a Reply