Introduction:
In this tutorial I will be teaching you how to add a scene style to your photos. You will need basic skills of Photoshop. My final image can be seen below: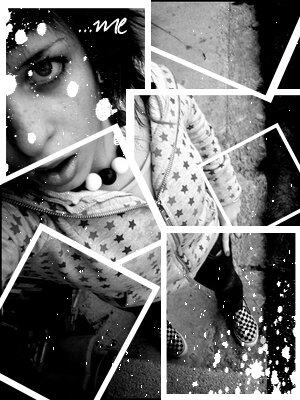 What You'll Need:– Adobe Photoshop CS2
– Any photo you wish to add a grunge feel to
– Splatter Brush Pack (click here to download)
– Journal Font (click here to download)
Step 1: Photo Touch-ups:
The original version of this photo was in color but I preffered it in black and white so I went to Hue and Saturation and applied these setings below:


Step 2: Adding The Boxes
Now we're going to add white boxes to make it look as if the photo has been sectioned off. Get your 'Custom Shape Tool' and use the settings below:
Now start making different sized boxes in different locations using different angles! Make around 5-10 depending on the size of your photo. Make sure not to cover important aspects of the photo. After doing this you should have something like this:
It looks pretty nasty because of all the overlapping boxes so now let's remove the overlapping…
Step 3: Removing The Overlapping Squares:
Now go to Layer > Resaterize > All Layers. This will make the boxes editable so we can remove the overlapping. Click one of your the layers that contains as square. Get your 'Eraser Tool' and begin erasing the border of that square to remove the overlapping. Do this for every other square. Make sure to not have any squares in another squares. Once you're done there you should have something like this:
Now this is starting to look nice! Now let's add the splatter effect and text…
Step 4: Adding The Splatter Effect and Text
Get out the Splatter Brush Set you downloaded earlier (if you haven't please do). Select one of the brushes in that set that you like and click a few times on the photo's corners (in a new layer). I used white to blend in with the white boxes. Now add some text using the Journal font. You should now have something like this: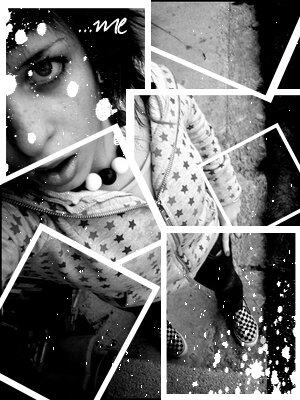 Now you're done! Play with the splatters and fonts to add your special touch!