in Celebrity Trivia, Clothing Trivia
No Comments »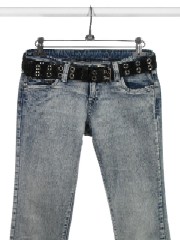 America is filled with 'rags to riches' stories but not all are as comical as the Levi Strauss story. Necessity truly is the Mother of invention. Just ask Levi Strauss!
Practically the entire world is familiar with the brand of Levi Strauss, but not everyone knows that the name belonged to an actual person who lived back in the 1800's. Nor does anyone know just how many pairs of jeans were worn before the right ones were finally made to fit perfect.
There's Gold Out Yonder!
In 1853 Levi Strauss, a German immigrant, set his sights on the California gold rush. He traveled to California from New York with a load of dry goods, mainly fabrics for his brother, and he planned on opening a store out west.
Read the rest of this entry »