Food Trivia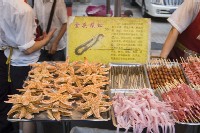 * In Thailand, giant water bugs are served as a treat with chili and rice. Dung beetles are added to curry to give it more flavor.
* People in Ghana roast and make soup out of frogs that they catch in the wild.
* Sweet treats in Sweden and Holland are not always sweet. These people love salt liquorice.

* Sheep heads are skinned, boiled and eaten in parts of the Mediterranean.
* Durian fruit, which smells like dirty socks, is a favorite fruit in southern Asia.
* In 1931, canned rattlesnake went on sale in the US. It's said to taste much like chicken.
* Black pudding is a breakfast favorite in the UK. It's made from pig's blood that is cooked until solid. It's served with bacon and eggs.
One Response to "Strange Foods that People Really Eat"
Leave a Reply