in Fun Trivia, Makeup Trivia
3 Comments »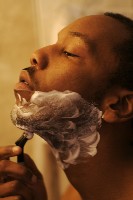 If you've always wanted to know how many hairs are removed from a man's face by shaving, you're in luck! Can you believe the prehistoric man shaved too? This article is filled of shaving facts, that may be useless but at least you'll know.
1. The average shave will trim away somewhere between 20,000-25,000 hairs from a man's face.
2. Shaving cream was only made for men until the industry specifically targeted women in 1986 by manufacturing the whipped magic specifically for women!
3. Shaving cream didn't always come in aerosol cans; the method wasn't even introduced until 1950.
Read the rest of this entry »