Locations Trivia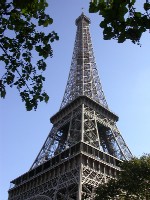 People are drawn from near and far to see the majesty that stands proud, the Eiffel Tower is truly a monument. Only two years of construction from 1887-1889 for the Universal Exhibition and the Centennial of the French Revolution, here are some amazing facts about the tower the world has grown to love.
1. The Eiffel Tower stands 986 feet high! Add the antenna for a whopping total of 1052 feet.
2. Only one worker was killed during the construction.
3. The Eiffel Tower weighs seven thousand tons.

4. The Eiffel Tower is painted once every seven years and it takes 50 tons of paint to complete the job.
5. On a clear day visitors can see more than 40 miles from the tower's top.
6. The base of the Eiffel Tower covers two and a half acres of land.
7. There are 1,665 steps from the bottom to the top of the tower.
8. The first televised transmission from the Eiffel Tower took place in 1957.
9. The Eiffel Tower was inaugurated on March 31st, 1889.
10.  The tower was named after Gustave Eiffel, the contractor.
6 Responses to "Facts About the Eiffel Tower"
Leave a Reply