Fun Trivia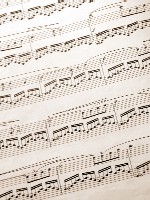 From classical to Blues, high Baroque to modern Rock and Roll, the following collection of music trivia and facts is a delight for any music-lover.
Aristotle famously laid his foundations for music theory in approximately 340 B.C.
Harps and flutes are among the first musical instruments.  These have been traced to Egypt dating to roughly 4000 B.C.

The trumpet is believed to hail from Denmark-roughly 2000 B.C.
Trumpet competitions were being held in Greece around the year 400 B.C.
Among the earliest writings on earth is a hymn written in Cuneiform on a Sumerian tablet.
The vina is an Indian instrument comprised of two gourds and strings.  It is believed to be the progenitor of all stringed instruments.
An early form of the oboe dates from 50 B.C. in Rome.
The first organ to boast four hundred pipes was located in England's Winchester Monastery around the year 980.
Roaming Troubadour music and musicians first hailed from France in 1125.
Holland served as the epicenter of European music around 1425.
Some traditional Japanese stringed instruments include the gekkin, shamisen and koto.
Antonio Vivaldi was born March 4, 1678.
German-born English composer George Frideric Handel was born in 1685. 
Likewise, Johannes Sebastian Bach was also born in 1685.  Bach wrote his first cantata in 1704.
Bartolomeo Cristofori invented the pianoforte in 1709.
In 1713, the Paris Opera formed its first School of Dance.
The first Parisian vaudeville performances occurred in 1715.
Ludwig van Beethoven was born in Bonn in 1770. 
Swedish opera prima donna Jenny Lind was born in 1820.  After settling in England, she spent the latter part of her life teaching at the Royal College of Music.
Famous Italian tenor Enrico Caruso was born in 1873.  A self-portrait of the singer can be found today at the New York Public Library.
Huddie Ledbetter, better known as Leadbelly, is believed to have been born in 1885 in Mooringsport, Louisiana. 
1907 saw the first Ziegfeld Follies appear on a New York stage.
Irving Berlin wrote "Alexander's Ragtime Band in 1911.
Singer-songwriter Carole King was born February 9, 1941. 
Some popular songs of 1941 include "Chattanooga Choo-Choo" and "Deep in the Heart of Texas."
John Lennon's wife and sometimes songwriting partner Yoko Ono was born February 18, 1933.
"Rock Around the Clock" was one of 1955's most popular songs.
In 1958 Samuel Barber won a Pulitzer Prize for his opera, "Vanessa."
1950s singer Pat Boone claims to be related to early American frontiersman Daniel Boone.
The Beatles formed in 1959 and hail from Liverpool.  The Beatles were inducted into the Rock and Roll Hall of Fame in 1988.
Jan and Dean enjoyed their only number one hit in 1963.  It was co-written by Beach Boys's leader Brian Wilson.
The Grateful Dead formed in 1965 in San Francisco.  In 1978, the band played three concerts at the foot of Egypt's Great Pyramid.
Singer Cher was born Cherilyn Sarkasian LaPier in 1946.
English legendary band Led Zeppelin was comprised of members Jimmy Page, Robert Plant, John Bonham and John Paul Jones. 
Duran Duran formed in 1978 in Birmingham, England.  Their first European hit single was "Planet Earth."
The band A Flock of Seagulls was formed in Liverpool in 1980. 
Christian Singer Amy Grant hails from Augusta, Georgia.
Singer Sheryl Crow was once a backup singer for Michael Jackson.  Crow hails from a farming town in Missouri.
Leave a Reply