Nature Trivia, Science Trivia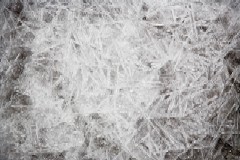 Did you know there are different types of ice? Or that the area of ice in the Arctic is at a worryingly low level? It's true – read on to discover this, plus more fascinating facts about ice!
In simple terms, ice is the solid form of water. It's formed when water reaches below 0 degrees C in temperature (or 273.15K / 32 degrees F). In pressurized atmospheres it can, however, also be formed at higher temperatures.
Strangely, ice has a different density to water, despite being formed from the same liquid. When solid, it's 8 per cent less dense than liquid water.

In caves or other chilly environments where water drips and freezes, ice can form into icicles.
The type of ice formed by fog freezing on cold objects is called Rime. Unlike the usual form of ice, it contains a lot of trapped air, which gives it a whiter look. The density of rime is only a quarter that of pure ice.
In September 2005, US scientists revealed that the area covered by sea ice in the Arctic has worryingly shrunk for the fourth year running. This means that there's now the lowest amount of ice cover in over a century.
The ice cap in Antarctica is about 30 million square miles with an average thickness of ice of 1.5km – almost a mile. The weight of the ice is so heavy, that in some places it begins to push the land below sea level. This process is officially termed isotasy.
Dry ice is made by freezing the gas carbon dioxide (CO2).
The idea of designing freezers for storing ice during the summer months in the dessert originated from Iran before about 400BC.
During the winter months, ice can prove to be a fatal substance on roads. Black ice, in particular, is extremely hard to see and causes many nasty accidents. This is why salt is put on the road to help break down the formation of icy patches.
In cold areas of the world, such as Sweden, Norway, Finland and Canada, special ice hotels exist between about November and May. Created out of slabs of ice and often featuring intricate ice sculptures, they allow visitors to stay in a unique form of accommodation.
Walking on frozen rivers, streams or ponds may seem like a good idea, but can be highly dangerous. Although ice may look quite thick, it can crack under the weight of humans. For those wanting to experience skating on ice, ice rinks are a much safer alternative. The ice is specially created and usually measures about two to three centimetres in thickness.
Leave a Reply