Locations Trivia, Nature Trivia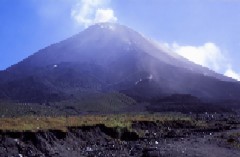 Mauna Loa is the Earth's largest volcano rising more than thirteen thousand feet above the Pacific Ocean.  A fascinating natural wonder, Hawaii's volcano covers about half the island of Hawaii and is visited by thousands of people each year.  The following article offers facts and trivia about this amazing volcano.
The volcano's name, Mauna Loa, actually means "long mountain."  This is an apt name for a volcano that is sixty miles long and thirty miles in width.
The island of Hawaii has five volcanoes including Mauna Loa.

Since its first documented eruption in 1832, Mauna Loa as erupted thirty-nine times.
Scientists believe that the volcano had its first eruption some 700,000 years ago.  The approximate 150 subsequent eruptions have resulted in the volcano's rise in height.
The first non-Hawaiian to climb Mauna Loa was Archibald Menzies in 1794.
Its 1984 eruption covered more than eleven thousand acres with lava.  This eruption lasted from March 14th to April 15th.
The 1859 eruption lasted for three hundred days destroying two coastal villages.
Mauna Loa's 1868 eruption caused the largest earthquake in Hawaii's history.
Measurements from its sea floor base to its summit demonstrate that the volcano is actually taller than Mt. Everest in the Himalayan Range.
Traditional Hawaiians believed that a goddess of fire, Pele, lived in volcanoes such as Mauna Loa.
Mauna Loa is an active volcano and scientists continually monitor it for signs of eruption.
Mauna Loa is monitored by the Hawaiian Volcano Observatory which was created in 1912.
Leave a Reply