Fun Trivia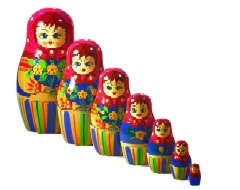 Russian nesting dolls, more accurately termed matryoshka, are not the old Russian relics we think they are despite being one of the most recognizable features of Russian folk art.  Roughly a century old, the art of the matryoshka has become a universal symbol of Russia and these beautifully created nesting dolls are beloved by collectors and toy enthusiasts around the world.  The following article provides facts and trivia about Russian matryoshka.
Matryoshka nesting dolls> are a series of hand painted wooden dolls.  The largest contains the next in size which in turns opens to reveal the next and so forth.  The more dolls and the smaller they are worked into containers the greater the skill.  A set usually contains at least six dolls. An exceptional set of dolls might even contain thirty.
The art of matryoshka is practiced in several centers including Sergiev (near Moscow), Semyonov, Vyatka and Tver along with many smaller villages.  It is believed that the dolls drew inspiration from Japanese nesting dolls.  The Japanese, however, trace the craft to a Russian monk living in Japan.

The first matryoshka appeared in the late nineteenth century-a time of artistic flowering for artisans who worked in the "Russian Style."  These dolls were typically referred to as Russian peasant toys.  Today they are also known as stacking dolls and babushka dolls as so many feature painted kerchiefs typical of Russian peasants.
Russian artisans typically create the dolls from lime or birch trees.  The first matryoshka crafters were already skilled making nesting Easter eggs.  Knives, chisels and a lathe are needed to form the wood into dolls.  Finished dolls would then be painted and coated with varnish.
The earliest dolls were featured in 1900 at the Paris World Expedition where they became highly popular.  Early matryoshka were known as Boyar Woman, Russian Girl Wearing Red Polka-Dot Kerchief, The Peoples of Russia, The Gypsy and Girl with Buckets.
While many of these early dolls featured women or girls (hence the name matryoshka derived from the word for mother), it was not long before boys, monks, generals and so forth were created into nesting dolls too.
The different regions and centers for matryoshka produce dolls that have become synonymous with them.  For instance, the Sergiev Posad examples are often squat and are painted in gouache.  Novgorod dolls tend to be more slender, decorative and employ more symbolic images than other styles.
Today's matryoshka makers borrow heavily from Russian history and folktales to create exquisitely painted scenes. Artists also reproduce traditional dolls as well while painting modern dolls too.
These hand-painted Russian lacquer dolls can be purchased at specialty import stores around the world as well as online from various vendors.
The art has also led to far greater subject matter.  Collectors can find matryoshka for the Beatles, American Presidents, fairytales, Disney characters, The Simpsons and more. Everything from traditional dolls to animals to cartoons is available today.  Such dolls are fun to collect and make for wonderful gifts for both children and adults.
2 Responses to "Matryoshka – Interesting Facts about Russian Nesting Dolls"
Who are we really? | Howl Little Coyote Tales Says:


[…] made me think of these nesting Russian dolls that I had when I was a kid. They are also called matryoshka. When you get one, you open it like an easter egg, and inside is another doll, and inside that one […]
Leave a Reply