Nature Trivia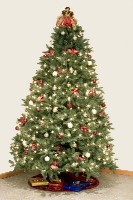 The Christmas tree is not something most of us think about until Christmas but there are farmers who work year round to make sure we get the best Christmas tree! There are many unbelievable facts about the Christmas tree and they are all listed right here.
1. One entire acre of Christmas trees manufactures the oxygen requirements for an average of just 18 people.
2. The idea of electric Christmas lights was born in 1882 by Edward Johnson, famous for assisting brilliant Thomas Edison.
3. Nearly 80 million Christmas tree are planted every year.

4. The National Christmas tree Lighting event at the Whitehouse began in 1923 and was started by U.S. President Calvin Coolidge.
5. The first U.S. President to decorate using a tree inside the Whitehouse was none other than President Franklin Pierce (14th President) in 1856.
6. Over one hundred thousand people are employed in fields related to the Christmas tree industry.
7. Christmas trees are grown in every American state.
8. In 1979 the National Christmas tree Lighting ceremony was altered for the first time to honor American hostages in Iran, only the top ornament was lit.
9. The average life of an artificial Christmas tree is about six years.
10. The average acre holds about 2,000 Christmas trees.
One Response to "Unbelievable Christmas Tree Facts!"
Aviva Trivia Blog » Fir Trees: A Christmas Favorite Says:


[…] home and decorating the Christmas tree is one of the most exciting events of the year for families around America.  It marks the […]
Leave a Reply