Locations Trivia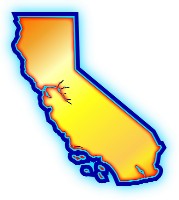 The west coast state of California is known for a lot more than just earthquakes and here are some facts you probably didn't know.
1. The proud city of Fresno, California claims to be the 'Raisin Capitol of the World'.
2. Seventeen million gallons of wine come from California every year.
3. The Greek word 'Eureka' (translation: I have found it) was adopted as the official state motto in 1849.

4. More turkeys come from California than from any other state of the United States of America.
5. The largest county in the U.S. is none other than San Bernardino covering almost three million acres.
6. On April 2, 1902 the first motion picture theater opened in the California city of Los Angeles.
7. California is also home to the world's largest landlocked harbor in San Francisco Bay.
8. California has the largest economy of any state in the U.S. and if California's economy were compared to other countries California would be the seventh largest in the entire world.
9. The Ronald Reagan Presidential Library and Museum is located in Simi Valley, California.
10.  You can find the world's largest living tree in California at the Sequoia National Park. The tree's trunk measures more than 100 feet in circumference.
One Response to "Fun Facts About California"
Bob Cleveland Says:


I have a DVD made from a Videotape made from 8mm film of me at that tree, in 1948. There's also a tree there (or was, 58 years ago) that we drove our car through.

Elsewhere, there's a State Capital that's not in a county (or Parish). Know which one?

Know which is the flattest state?

Another interesting thing about California that's hard to ask as a trivia question is that Los Angeles is east of Reno, Nevada.

The only movable National Monument is in California, too.
Leave a Reply