Makeup Trivia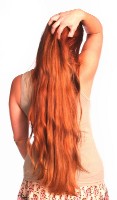 More than just for bouffant hairdos, hairspray has other uses as well.  Ten such uses are:
* Ladies, fix a run in your pantyhose or stockings in a pinch by spraying with the strongest hold spray you have
* Spilled ink or dye (non-chlorine) can often be removed by applying hairspray before washing
* If you're all out of Raid and need to get rid of a spider, hairspray that bug

* Cover inexpensive plastic fruit with iridescent glitter for the frosted look by spraying the fruit with hairspray (cheap stuff works great) then dip into glitter
* Pastel and charcoal artists who don't have fixative can use hairspray ("dry" hairspray works best) to seal in their work
* Get permanent marker off of some surfaces by spraying with hairspray, then wiping
* Nail polish spills, especially on carpet and other synthetic fiber, can be cleaned by adding water, about 15-20 squirts of hair spray and 3-5 splashes of rubbing alcohol. Scrub and blot with a paper towel.
* When doing home improvements using chalk lines, spray the line with hairspray to prevent it from rubbing off right away.  Easy to clean with water and soap.
* Those cotton spider webs put up at Halloween can shed small fibers all over your home, but spraying with hairspray will keep them in place
* Another great Halloween use for hairspray is to temporarily color hair.  Spray hair, either all over or in sections, and sprinkle with unsweetened (not sugar-free) drink mix, like Kook-Aid, the color you desire. 
2 Responses to "Ten Alternative Uses for Hairspray"
The New Pink » Blog Archive » Fun facts Says:


[…] I love a bit of trivia especially when it's on the net, if you are the same then I have a great website to share with you: Aviva Trivia Blog. The blog is completely dedicated to posting fun facts about different categories such as animals, clothing, history and make-up. They have a great article called Weird Jobs posted in late September, the ideas are imaginative and funny, things that you probably didn't even realise were real jobs. Also ladies check out their Ten Alternative Uses for Hairspray, it's a pretty useful article! I am looking forward to seeing what other funny facts they come up with. Bookmark to: […]

Busy blogger - Yet another Blog » Trivia Says:


[…] My favourite would have to be the makeup facts section, particularly the many alternative uses of hair spray: "Those cotton spider webs put up at Halloween can shed small fibers all over your home, but spraying with hairspray will keep them in place". […]
Leave a Reply