Animal Trivia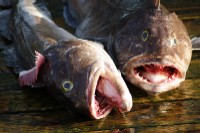 Catfish are tasty, they're funny looking, and they can sting you if you're not careful.  But what else do you know about this plentiful fish?  Test your knowledge with these ten fun facts about catfish:
1. Catfish are found in every state in the United States, except Alaska, and on every continent except for Antarctica.
2. Catfish are basically warm water fish.  They inhabit mud-bottomed rivers, creeks, lakes, and ponds.

3. Catfish are named for their long whiskers, which are similar to those of a cat's.
4. There are 37 different catfish families.  The last was just discovered in 2005.
5. Catfish have no scales.
6. June 25 is designated National Catfish Day in the United States.
7. The largest catfish ever caught weighed 645 pounds.  It was a Giant Mekong catfish, caught in Thailand in 2005.
8. Catfish is the leading farm-raised fishing crop in the United States.
9. Over ninety percent of United States domestic catfish comes from Arkansas, Mississippi, Alabama, and Louisiana.
10. Catfish are a staple in southern American cuisine.  They are delicious fried, sautéed, grilled, and baked.
Leave a Reply