Movie Trivia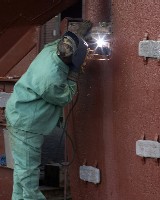 The heat is on.
Sparks fly.
Who's behind the welder's mask?
Take a look and you'll find skilled workers, men and women, dedicated to their job.

To celebrate the hard-working welder, here are some on film.
Yes, Hollywood celebrates them too:
I Love A Soldier, with Paulette Goddard and Sonny Tufts: During World War II, a young woman and her friends weld by day, and date sailors who are going to sea. 1944.
Unusual Occupations is a short documentary highlighting a female worm farmer who also teaches welding. 1937.
Flashdance, starring Jennifer Beales and Michael Nouri: A pretty young welder moonlights as an exotic dancer to pursue her dream as a ballet star. 1983.
Mardi Gras Massacre, featuring Curt Dawson and Gwen Arment: In this rated B horror movie,  a killer in a welder's mask chooses his victims at a Mardi Gras celebration in New Orleans. 1978.
La Metamorphose des cloportes is a French film with Leno Ventura and Charles Aznavour: A trio of criminals need a certain welding torch to pull off a lucrative deal, but the plan goes awry, one is caught and incarcerated, and seeks revenge upon his release. 1965.
eMale, featuring Daniel Roebuck and Brandy Little: An internet founder enters a contest in which he has to be welded inside his home for a year in order to win $100,000. Can he do it? 2001.
Welding The Big Ring is a black and white silent film about men who demonstrate how to weld a large ring. 1904.
Leave a Reply