Movie Trivia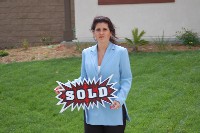 In the movies, real estate agents are portrayed in a variety of ways. Some flattering; some not so flattering:  The helpful mediator, the greedy shyster, or the earnest businessperson caught in the middle, etc.
Regardless of the role, they are always fun and interesting to watch, as these films featuring real estate agents will show.
Which ones have you seen? What would you add to the list?

Boy, Did I Get A Wrong Number, starring Bob Hope, Elke Sommer, and Phyllis Diller: An actress wanting to leave Hollywood calls for room service from a hotel room and gets a real estate agent by accident. The fun starts when the agent tries to help hide her whereabouts from Hollywood. 1966.
American Beauty, featuring Kevin Spacey and Annette Bening: A man who is married to a driven real estate agent has a midlife crisis and becomes obsessive about one of his daughter's friends. 1999.
The Hathaways, a TV series with Peggy Cass and Jack Weston: A real estate agent has a wife who treats their three pet chimps like children. 1961.
The Money Pit, starring Tom Hanks and Shelley Long: A young couple buys a house from their real estate agent friend, only to find that the house is in desperate need of repairs. 1986.
House Hunters, a documentary (still in production) about the emotional impact of buying a new home. 1999.
Open House, with Joseph Bottoms and Adrienne Barbeaux: Real estate agents are being murdered, and the girlfriend of a talk show therapist could be next. Why? She's a real estate agent, and he has been helping the police in the case. 1987.
 Pacific Palasades, an Aaron Spelling production starring Kimberly Davis:  One of a handful of up and coming professionals, a real estate agent named Laura Sinclair will do anything to close a deal: 1997.
Aiquing wansui, a Taiwanese film featuring Kuei-Mei Yang: A real estate agent uses a supposed empty apartment building for her sexual encounters, unaware that two other people are using it for their own purposes too. 1994.
Clean And Sober, with Michael Keaton: A successful real estate agent also has a cocaine habit that wreaks havoc on his career and personal life. 1988.
La Comunidad, a Spanish film starring Carmen Maura: While selling an apartment, a 40-something real estate agent finds millions of dollars in the house of a dead man. What to do? What to do? 2000.
Leave a Reply