Games Trivia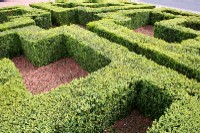 They fascinate and confuse, mesmerise and mystify – mazes or labyrinths provide plenty of mystery and mayhem! Read on to discover some fascinating facts about these compelling creations, along with details of some of the world's most famous mazes.
Mazes have a long history – they're thought to date back at least 4000 years. Originally, though, they weren't designed as puzzles, but more as a single, winding path. During Medieval times, mazes were often used as a form of protection to confuse enemy attackers from getting close to buildings such as castles and stop unwanted visitors.
The first puzzle mazes are believed to originate from the Italian renaissance period and were designed especially for the amusement of prominent members of Royalty. It wasn't until the 19th century that the first hedge mazes were built for members of the public to enjoy. Since then, they've proved to be a constant hit. As a nation, Japan, in particular, became particularly keen on mazes during the 1980s and built over 200 of the tricky creations.

In Britain today, there are over 125 mazes open to the public and seasonal mazes created out of cornfields are popular during the summer months. The first cornfield maze was produced in America, though, in a field in Pennsylvania in 1993.
Leonhard Euler, a mathematician, was one of the first people to conduct a mathematical analysis of mazes. As a result, he developed the science of topology, or the study of topological spaces.
Famous Mazes
The island of Samsø in Denmark is home to one of the world's largest tree mazes. It was designed by Erik and Karen Poulsen in 1999 and covers a massive area of 645,835 feet, with a path that measures 16,830 feet.
Hampton Court Palace in London has a world-famous hedge maze. It's believed to have been planted between 1689 and 1695 by George London and Henry Wise for William III of Orange and is probably the oldest hedge maze in the world. It was originally made up entirely of hornbeam carpinus, but over the years it's needed repairing and now consists of a range of different hedging plants. The maze covers a third of an acre and contains about half a mile (800m) of pathways.
The garden at Chatsworth House in Derbyshire has a maze made out of yews. Although much of the rest of the grounds have a long history, the maze was planted with 1209 yews in 1962, on the site of the former Great Conservatory.
Temporary corn mazes – or maize mazes – are popular in the summer months. The largest corn maze to date, which covered an area of 16.9acres, opened in Dorset in July 2003.
The maze at Longleat in Warminster, England, covers an area of about 1.48 acres with a total pathway length of 1.69 miles. It's made up of over 16,000 English Yews and differs from other hedge mazes in that it's three dimensional. There are six wooden bridges scattered around the maze, each of which offer a glimpse of the centre.
The largest permanent hedge maze and pathway is the Peace Maze at Castlewellan Forest Park in County Down, Northern Ireland. It opened to the public in September 2001 and was designed by Beverly Lear. The total area covered is 2.77 acres and the total path length – which currently holds the record for the longest pathway in a permanent hedge maze – measures 2.18 miles.
The Dole Plantation maze in Hawaii covers over two acres and has a path measuring 1.7 miles. Unlike other mazes, it's made up of 11,400 colourful Hawaiian plants, including various varieties of the official state flower, hibiscus.
Leave a Reply