Locations Trivia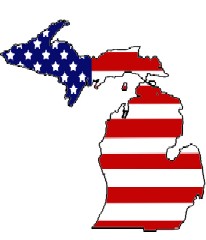 The state that we call Michigan was settled just over 10,000 years ago. Sometimes called the Water Wonderland, Michigan has more shoreline than any other state. However, that's not the only odd thing about Michigan. Check out these facts that are all strange, but true.
* Michigan is nicknamed the "Wolverine State", but wolverines can not be found anywhere in the state.
* The first soda pop made in the U.S. was inadvertently invented in Detroit, Michigan. Pharmacist James Vernor went away to serve in the Civil War and when he returned, he found that the liquid he had stored in an old oak case had acquired an interesting ginger flavor. He decided to call it Vernor's Ginger Ale.

* For over 125 years, Michigan has operated the only floating post office in the world, delivering mail to ships as they sail.
* No matter where a person stands within the state, they are no more than 85 miles from one of the Great Lakes that surrounds Michigan.
* Though it is not enforced, an old Michigan law states that women may not lift their skirts more than six inches to cross a mud puddle.
* Hell really does freeze over…at least in Michigan. On average, the town of Hell, Michigan experiences 86 days that fall below freezing level on the temperature scale.
* The process of creating flaked cereal was accidentally discovered by the Kellogg brothers. Battlecreek, Michigan is now known as the Cereal Capital of the World.
* One of Michigan's Great Lakes was originally named Lake of the Stinking Water. It was later changed to Lake Michigan.
* In 1995, a group of fifth graders discovered that Michigan did not have a state reptile. Upset by the thought, they lobbied for change and the painted turtle was given the title.
* Michigan single-handedly produces over 75% of the cherries grown in the U.S.
Leave a Reply