Fun Trivia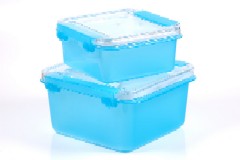 Earl Silas Tupper was born on a farm in Berlin, New Hampshire in 1907. From youth, Tupper was an entrepreneur. He started a landscaping business after school that did very well until the Great Depression forced him into bankruptcy. At that time, he went to work for the Dupont Chemical Company.
While working for Dupont, Tupper was given polyethylene slag, which he purified and turned into plastic containers that were lightweight and unbreakable. Tupper felt that his product was the material of the future. In 1938, he left Dupont and formed his own company which he called Tupper Plastics.
Tupper experimented with the plastics and in 1945 created a cup he named Poly-T. He continued working with his creation and created bowls and other objects that he felt would be useful to woman in the kitchen. Then, Tupper made lids for the objects by molding lids that were similar to an upside down paint can lid. He called them seals. They were airtight and spill proof.

Tupper put his products into hardware stores, hoping the public would buy them. However sales were slim. His product was going nowhere until fate took a role.
In Detroit, a woman named Brownie Wise was given a gift of one of the sets of bowls. It took her three days to figure out how the seals worked. Upon dropping one of the bowls while it was full, she was awestruck. The stuff was amazing. She contacted Tupper and told him she wanted to sell Tupperware at home parties.
Tupper was delighted. This woman was smart and if she could gather housewives together for a party and sell his product, that was all the better. He hired Wise, pulled Tupperware off the store shelves and began selling it only at house parties. Wise did well and had soon hired housewives to sell the product to other housewives. The business took off. Having a Tupperware party in the 1950s was a big thing.
It wasn't long until Tupper and Wise had a disagreement. Even though she had saved him from bankruptcy and he needed her selling wisdom, Tupper fired her. It was 1958. Soon thereafter, Tupper sold his business to Dart Industries, who still owns it today.
By the 1970s, Dart was selling 900 million worth of Tupperware annually. Today, Tupperware brings in 1.2 billion a year with a Tupperware party beginning somewhere in the world every 22 seconds.
Leave a Reply