Food Trivia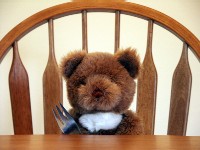 Chips of Cookie History
Quick, who makes good cookies? Hint: it's a man! "Mr. Christie, you make good cookies." But what was Mr. Christie's name, and did he really make cookies himself? You bet he did. Born William Mellis Christie in Scotland (1829), he was apprenticed to a baker at 14. Five years later, training complete, he bet his bottom biscuit that opportunities awaited in Canada. By 1856, he had purchased the shop he was working in and the dough began rolling out…and in.
After winning a medal for his cookie collection in 1858, the business focused on biscuit manufacturing only, turning out 4300 boxes a year, valued at $13,000. Christie could now afford a house bigger than a biscuit box, and built a mansion in Queen's Park, Toronto, Ontario, which would later figure in one of Canada's great ghost stories.

Business demands required that he take on a partner, his former employer. From 1868-1878 Mr. Christie and Mr. Brown, made good cookies. Even after Christie bought out Brown's interest, the company title retained both names. The business became the largest of its kind in Canada, passing into the hands of son Robert Jaffray Christie on his father's death in 1899.
Robert Christie, while reported to be devoted to his wife, is also rumoured to have kept a mistress in a secret suite of rooms in the family mansion. Doors to the room(s) were hidden behind secret panels. As Robert visited less often, the mistress is said to have gone insane and hanged herself, after which he disposed of the body. His personal and business fortunes declined thereafter, and the company was bought out by Nabisco. Truth, or too many Oreos before bedtime? Whether there was a mistress or not, there is a secreted room, labelled #29. There are also reports of doors slamming, and even locking, when there are no people present. Either the mistress is on the move, or Mr. Christie has the munchies.
For The Love of Laura
When you lift the lid of that pale cream box of chocolates, do you ever wonder about the demure young woman, pictured on the front? Is she real? Did she found the company? How many of those chocolates did she eat?
In fact, the real Laura Secord, had nothing whatsoever to do with candy. (Which no doubt explains why she looks so slim.) She was born an American, but had moved north, and was living with her husband, a recovering soldier, in Queenston, Upper Canada. On June 21, 1813, American soldiers barged in without so much as a "shall we take our boots off", and commandeered their home. While doing their cooking and cleaning, Laura poured liberal measures of drinks all around, and listened to their plan for invading the Niagra Peninsula. 
Knowing that the British forces would be massacred, she donned bonnet and kid slippers, and told the officer in charge she was off to visit her sick brother in St. David's. Which wasn't a lie. That was her first stop, to see if the brother was well enough to warn the British troops, or if any of his sons were sitting around whittling wood, and could save her the trip. As it turned out, nobody was able to help, and Laura continued the trip in thin footwear, which no "kid-ing", was inadequate for the rough terrain of the woods and swamps. Lieutenant Fitzgibbon, the commanding officer reported her arrival in tatters, exhausted, and on the verge of collapse. But her warning had saved the day, and the troops.
In what some chauvinists might suspect to be an unlikely story, Laura did not talk publicly about her experience, until the story was printed in 1860. The Prince of Wales, then touring Canada, was so moved by the tale that he sent her 100 pounds. Forty-five years later, in 1913, when a larger than life statue of Laura was erected in Queenston, Frank O'Connor was struck by the representation of women in general, and Laura's strength in particular. As a result, he named his new Toronto candy store and company for her. But she never tasted any of their calorie-laden sweets. Laura died in 1868, at the age of 91.
Our Lady of the Ganong Box

Still perusing the candy counter? If you're an over 35 Canadian, you or your parents have likely seen another damsel-decorated box of sweets, manufactured by Canada's candy kings, the Ganong family. Her name was Evangeline, and she was also a heroine. But a fictional one, created by Henry Wadsworth Longfellow in his 1847 poem of the same name. In that epic work, the French Acadian maiden forlornly sought her lost love, hither and yon, and after yon, was done, retiring to the east coast to become a nun.
Ganong's originally chose the conceptual image, because of her virtues, including "purity, excellence, and constancy, romance, sentiment, and sweetness." All of which went down very well when marketing sweets for your Sweet.
The real company character however, is that of the lovable, curmudgeonly, R.Whidden Ganong. A descendant of brothers James and Gilbert Ganong, who started out as a small grocery cum candymaker in 1873, Whidden rose to the ribbon candy reins of one of the most innovative candy companies in Canada. (Say that ten times fast, with a caramel in your mouth.) By the time he took over in 1957, Ganong's had already:
* Put the "heart" in Canada with a special Valentine's box (1935)
* Created the nickel "nut bar" (candy bar to anyone outside of the Maritimes)
* Pioneered using real fruit puree in snacks
* Created the Maritime traditional favourite candy, "chicken bones" (chocolatey filling under a hard cinnamon flavoured candy coating) that are still hand pulled today, by only the fourth person since 1885!
Whidden's role in all this? He was company president (the third of only four since the company began) for 20 years, in and out of the factory constantly, watching the thumb twisting touch that put the curl on the tops of chocolates, and consuming a one pound box of chocolates, every single day! (Company spokesman report he had no favorites. He ate them all!)
Although he retired in 1977, a wise wag in the advertising department struck on the idea of plain, sincere and…well, not an actor, to advertise Ganong's wares, in 1982. The result was a Canadian classic commercial, featuring the now 75 year-old R.W. holding up a box of his chocolates. His delivery was straight out of "Acting 101", and the public ate it, and Ganong's chocolates up, in record numbers. The commercial ran for three or four years, before retiring gracefully. R.Whidden passed away in 2000, at the age of 93, not one "whid-den" overweight from all those Ganong goodies.
Let Them Eat Cheesecake
Are you picturing another lovely young representative of femininity, slaving away over a hot oven, turning out cakes by the hundreds? Forget it. The real Sarah Lee never went near the kitchens that made her famous. In 1935, Charles Lubin and his brother-in-law bought a chain of small neighborhood bakeries, making more than just petty cash from their petit fours. In 1949 they parted ways, Charles retaining the company, whose first solo product was a cream cheesecake named for his eight year old daughter, Sara Lee Lubin. The business was wildly successful, allowing Sarah Lee (Lubin) Schupf to become one of America's best-known women philanthropists.
Making A Little Extra Dough(nuts)
While today's hockey elite have minions to make sure they get their millions, back in the 50s, it was pretty tough going for your average NHL player with a wife and family. So it was for Maple Leaf player, Tim Horton, when a hard body check in a 1955 game, broke his jaw and leg. Horton was off the ice for a year, and when he did return, was fined $100 for "indifferent play". A string of failed business ventures further strained the Horton family resources. But he struck the pot of gold, (or perhaps deep-fryer of fat) in 1964, when he went into partnership with an ex-cop named Ron Joyce, in a chain of coffee & doughnut shops that still bear his name today. Serving nothing but those two commodities, Tim Hortons became synonymous with Canada, right alongside beavers and maple syrup.The menu, including Horton's own personal creations, the dutchie and apple fritter, had customers flocking in to pay a quarter for a coffee and a doughnut (Canadian funds, mind you, and we are talking 1964). Soon the single shop grew to a chain, and in his mid-40s, Horton didn't really need to keep playing hockey. But he did anyway, winning MVP for the Buffalo Sabres in 1973. Horton was killed in a car accident in 1974, on the way home from a game in the U.S. His widow sold her interests in the chain, the following year, for $1 million.  Today the chain has over 1500 stores in Canada, including smoke-free outlets (first opened in 1983), with a total gross in sales of over $400 million (US too!) in 1999.Incidentally, that same cup of coffee (small), and doughnut, would cost you $1.81 (Cdn) today, tax included.  If you sit down in the Tim Hortons at the Gateway Mall in Sussex, New Brunswick, you can place your order three times, from the same doughnut diva. They employ a set of identical triplets.
Leave a Reply