Fun Trivia, History Trivia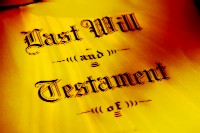 King: Alfred the Great ( 849-901) – "I desire to leave to the men that come after me a remembrance of me in good works."
Most of us shuffle off this mortal coil, having carefully set down what we leave where, and to whom. Some depart with nary a word put to paper, leaving them intestate, and their relatives in-a-snit. Wills serve a useful purpose in making sure that what we couldn't take with us, goes to who we want it to.  Some of course, have more to leave than others.
Benjamin Franklin distributed a considerable amount of the most common items: property and cash, much of which went to charitable causes. Along with the bonds of several people, his beloved books and telescope, he left some more interesting bequests. To his son in law, the watch chain of the 13 States. To his daughter, "The king of France's picture, set with four hundred and eight diamonds, I give to my daughter, Sarah Bache, requesting, however, that she would not form any of those diamonds into ornaments either for herself or daughters, and thereby introduce or countenance the expensive, vain, and useless fashion of wearing jewels in this country; and those immediately connected with the picture may be preserved with the same." And most movingly, this gift to George Washington: " My fine crab-tree walking stick, with a gold head curiously wrought in the form of the cap of liberty, I give to my friend, and the friend of mankind, General Washington. If it were a Sceptre, he has merited it"

If you were a simple (though apparently rich) farmer / landowner, your will might have looked something like Thomas Sherman's in 1493, where in addition to sums of money and the "two bushels of wheat and four bushels of malt" left to different churches, he accorded livestock to various relatives of his residuary legatee, John Clerk.  Agnes, John's wife was to get "a heifer of the best". The children each received a calf as did Thomas' grandchildren, his godson got a heifer and a calf, and the widow got eight cows!
On the other hand, when he died in 1995, former Chief Justice Warren Burger disposed of his entire estate in 176 words, leaving one third to his daughter, and two thirds of his goods to his son. Unfortunately, he failed to leave his executors a grant of powers, nor did he provide for estate taxes, which resulted in thousands of dollars in attorney fees.
French poet Rabelais, was equally succinct, if more careful in the recording of his wishes, with a tongue-in-cheek "I have no available property, I owe a great deal; the rest I give to the poor." But the shortest known will on record was made in 1967 and consisted of two Latin words: Vse Zene (I leave all to my wife.)
Spouses are generally the major or residual beneficiaries, but in many cases, they end up receiving a big surprise, if not sharply phrased admonishments from the other side of the grave.  An English farmer, having planned to leave a sum to his wife, doubled it when reminded she may marry again. Though it was the opposite to the provisions normally made, he claimed "Aye, but him as gets her'll deserve it."
A doctor from Glasgow was equally kind to his "beloved relict" as they were termed with this provision: "To my wife, as a recompense for deserting me and leaving me in peace, I expect the said sister, Elizabeth, to make her a gift of ten shillings sterling, to buy her a pocket handkerchief to weep after my decease."
And an Irishman went straight to the point with: 'To my wife, I leave her lover, and the knowledge that I was not the fool she thought me; to my son I leave the pleasure of earning a living. For 20 years he thought the pleasure was mine; he was mistaken.'
A gentleman of Surrey, England was only slightly more generous in his 1772 will, directing : "Whereas, it was my misfortune to be maid very uneasy by ______, my wife, for many years from our marriage, by her turbulent behaviour, for she was not content to despise my admonitions, but she contrived every method to make me unhappy; she was so perverse in her nature that she would not be reclaimed, but seemed only to be born to be a plague to me; …………..therefore I give her a shilling."
The trend extended into the nobility also, as evidenced by the will of Henry Earl of Stafford, who, having married the daughter of the Duc de Grammont, died in the early 1700s: "To the worst of women, Claude Charlotte de Grammont, unfortunately my wife, guilty as she is of all crimes, I leave five-and-forty brass halfpence, which will buy a pullet for her supper. A better gift than her father can make her; for I have known when having not the money, neither had he the credit for such a purchase; he being the worst of men, and his wife the worst of women in all debaucheries. Had I known their characters I had never married their daughter, and made myself unhappy."
But the prize for figuratively thumbing their nose at a sour spouse, goes to Heinrich Heine left his estate to his wife on condition that she remarries so "there will be at least one man to regret my death". 
Occasionally, women got their own revenge. In 1959 Amy Bachmann left $600,000 to her dog Bingo, $1 to her husband, and nothing to her son.
Many wills over the years have placed bizarre conditions on their bequests.  In 1977 Earnest Digweed left 26,000 pounds to Jesus Christ, providing he could establish his identity.
Hensley Nankivell requested in 1987 that any relative wanting to benefit from his estate of £400,000 must first train as an airline pilot.
And Samuel Bratt, whose wife hated his smoking, left her in 1960, the sum of 330,000 pounds providing she smoked five cigars a day.
Not only were the bequests strange, so were some of the requests made for the disposition of the departed. Author Ayn Rand, born in 1905 in St. Petersburg, Russia, was buried in 1982 in Valhalla, New York's Kensico Cemetery with a six-foot dollar sign, her personal symbol, resting beside her in her coffin.
In 1983, Tony Gribble requested his ashes be placed in an egg timer, so he could continue to be of some use.
When Harold West died in 1972, having a 'thing' about vampires, he left these strict instructions: "My doctor is to drive a steel stake through my heart to make sure that I am properly dead". 
Earl Allen of Thurber, Texas was buried in 1929 with a phone in his hand. Terrified of burial alive, he was placed in a mausoleum, having left instructions that if he hadn't called in three days, the phone was to be disconnected.  
And Sophie Herzog, a pioneer woman physician in Texas, was buried wearing her necklace of 27 slugs..each one having been taken from one of her patients.
Perhaps the  best known case of wanting to take it with you, is that of millionairess Sandra Ilene West. The rich widow of a Texan, having died in California, requested that she be buried behind the wheel of her Corvette, in her nightware. After protracted arguments and legal wrangling, Sandra was dressed in a negligee, placed in the driver's seat of her beloved Corvette, and both were lowered into a box measuring six feet by eight feet by seventeen feet. The box was then put into the grave, and covered with concrete.
Where there's a will, there is a way.
Leave a Reply