Food Trivia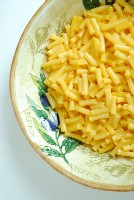 Think that you know everything there is to know about the old stand-by ¦.. Macaroni and Cheese? You might be surprised. Even I didn't know some of this stuff and I've been eating it for years.
Could it be that it was the infamous Marco Polo who first discovered Macaroni and Cheese in the late 13th century? It is thought that he found the dish in China, but the fact could never be proved. So, it remains simply … a legend.
Another legend has it that Thomas Jefferson actually served Macaroni and Cheese in the White House in 1802. That must have been some dinner party!

While Kraft Macaroni and Cheese Dinner was introduced in the U.S. and Canada during the late 1930's, it was during World War 2 that it became really popular, as people were looking for meatless entrees.
The Kraft company tried to change the name of their Macaroni and Cheese by putting the word cheese first¦ to emphasize the cheese part of the dish, but the new name never made it to the actual box and the label remained, Kraft Macaroni and Cheese.
According to research conducted by Land O'Lakes, kids who eat at home, eat 62 pounds of pasta each year and 16% of those kids eat Macaroni and Cheese.
In 2005, hundreds of recipes were submitted for a Macaroni and Cheese Recipe Contest sponsored by Tillamook Cheese and McCormick & Schmick's restaurants. Some of the most interesting ingredients ranged from crab to jalapeno peppers. It was supposedly the first recipe contest of its kind, but I doubt that it will be the last!
I also did a looking  around, and I have to say that the strangest ingredient added to Macaroni and Cheese has to be frosted cereal flakes. Now that has to be an acquired taste!
8 Responses to "The History of Macaroni and Cheese"
Leave a Reply