Locations Trivia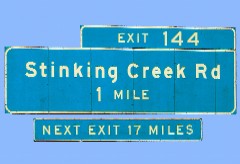 Sometimes the founders of a town will give it a name that seems great, but turns out to be just, well, weird. For whatever reason, there are millions of odd town names all over America. Here are some of the weirdest of the weird. Impress your friends (and geography teachers) with your new knowledge.
Chicken, Alaska
Population: 17
This town was settled by gold miners in the 1800s. They named it œChicken because they couldn't figure out how to spell œptarmigan " the name of a bird that is common in that area.

Eek, Alaska
Population: 280
Fifty-Six, Arkansas
Population: 163
Magazine, Arkansas
Population: 915
Smackover, Arkansas
Population: 2,005
Jupiter, Florida
Population: 46,752
This town was known as œJove (by Spaniard settlers) until the British changed it to œJupiter which is an Anglicized form of the first name.  The Florida Marlins pro baseball team holds spring training in Jupiter.
Normal, Illinois
Population: 45,386
This was originally named after a college (now known as Illinois State University). Normal is also known for opening the first Steak n Shake restaurant.
Sandwich, Illinois
Population: 6,509
The oldest continuing county fair in the state of Illinois is the DeKalb County Fair " but many people call it the Sandwich Fair. It's been held since 1889.
Embarrass, Minnesota
Population: 691
This is actually a township. In January of 2005, the temperature reached an incredible -54 F.
Yazoo, Mississippi
Population: 14,550
Peculiar, Missouri
Population: 2,604
This name was picked because all of the names suggested before it were already taken. In the 1860s, Postmaster Edgar Thomson became frustrated and wrote a letter suggesting that the town be named something œpeculiar. This name was approved, and it's still Peculiar, Missouri today.
Kill Devil Hills, North Carolina
Population: 5,897
Intercourse, Pennsylvania
This unincorporated township is home to many Amish. In fact, the movie œWitness was filmed in Intercourse.
Gun Barrel City, Texas
Population: 5,145
This city takes its name from one of its streets, which was known as Gun Barrel Lane. People in this town say that the road got its name because the surveyor looked at it and remarked that it was as straight as a gun barrel.
2 Responses to "Odd Town Names"
Abbey Says:


They named a town "Chicken" because they couldn't spell?!

Hmm, so should I name a child "chick" because I can't spell?
Leave a Reply