Movie Trivia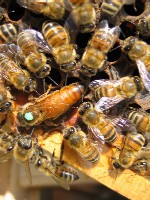 Sometimes B movies get a bad buzz. They have low budgets, so-so actors, and don't do so well at the box office. But these B movies have something the others don't, and that's real bees.
To pay tribute to bees and B movies all over the world, check out these films. Have you seen them? What would you add to the list?
The Abominable Dr. Phibes, with Vincent Price and Joseph Cotton: The 9 Biblical plagues come to life in this horror movie with bees, bats, killer frog masks, and one dead doctor after another.  1971.

The Bears And Bees, an animated Disney short: Two bear cubs help themselves to honey in a beehive with the help of some friendly bees. 1932.
Bee Bopped, another animated short, this one directed by Jack Hannah: A bear named Windy tangles with a bee, plungers, and dynamite for delicious honey in a beehive, and ends up with hotcakes and honey in the hospital. 1959.
The Bees, starring John Carradine and John Saxon: Mutant killer bees are on the loose, and it's up to two scientists to contain the threat. 1978.
La Belle histoire, a French film featuring Gerard Lanvin and Beatrice Dalle: An aspiring French bullfighter meets up with Marie, his childhood friend, who loses her job when she allows her young students to kiss honey bees and teaches them about reincarnation. 1992.
Bright Road, with Dorothy Dandridge, Harry Belafonte, and Philip Herburn: A troubled 11-year-old student redeems himself when he saves his class from a swarm of bees by capturing the queen bee and leading the other bees outside. 1953.
Candyman, featuring Tony Todd as a terrifying mythical legend who appears behind you when you say "Candyman" five times in a mirror. As the legend goes, he was an ex-slave whose right hand was sawn off. If that's not bad enough, his face was covered in honey and he was stung to death by bees. 1992.
Samson And Delilah, a TV movie with Elizabeth Hurley, Michael Gambon, and Dennis Hopper: In one part of the famous Bible story, Samson happens upon honey in the desert and eats impure honey from a beehive in the carcass of a lion. 1996.
The Deadly Bees, starring Suzanna Leigh and Guy Doleman: An exhausted pop star retreats to an island to recuperate, but meets up with some unfriendly bees that are genetically-engineered to  attack and kill. It's up to the pop diva to get the island-dwellers and herself to safety. 1966.
Floating Under A Honey Tree: A short film presenting imagery of childhood fears, like thunderstorms and bees. 1999.
Honey, I Shrunk The Kids, featuring Rick Moranis and Marcia Strassman: A nutty scientist accidentally shrinks his children to a quarter of an inch, and they must brave kamikaze bees, hellacious lawn sprinklers, and a dangerous lawnmower on their trek home via their backyard. 1989.
The Swarm, featuring Michael Caine and Richard Widmark: An entomologist tries to prevent an army general from using military action against the South American killer bees making their way toward the United States–specifically, Houston. 1978.
Many Adventures Of Winnie The Pooh: Winnie the Pooh encounters bees, balloons, and birthdays on his eventful quest for honey. 1977.
Jeannot L'intrepide:  (An animated French film also released in the U.S):  A boy named Johnny  is reduced to the size of a bee by a giant. Bee-Land takes him in, where he fights for the Queen Bee and leads the swarm in an assault against the giant. Johnny manages to reduce the giant to his size, and returns to his original size. 1950.
Killer Bees, a TV movie with Edward Albert, Kate Jackson, and Gloria Swanson: An eccentric woman holds an ominous power over the bees that swarm above her vineyard. Could she be the queen bee? 1974.  
Killer Bees!, a made-for-TV movie starring C. Thomas Howell: Just when you thought it was safe, here comes more bees, and a small-town sheriff tries to save his townspeople from their attack.  2002.
Killer Bees?: A documentary on Africanized, colonized bees in the Southwest, and their threat to humans and animals. It seeks to be informative and engaging. 1999.
Killer Party, featuring Martin Hewitt, Ralph Seymour, and Elaine Wilkes: A campus horror flick that starts out with teenage boys depositing bees in a hot tub of sorority girls, so that they can videotape them as they exit the water. 1986.
Maya Lin: A Strong Clear Vision: A documentary about the artist who designed the Vietnam War Memorial. The film also includes her self-portrait in lead and beeswax. 1994.
The Savage Bees, with Ben Johnson: Killer bees are headed for the Mardi Gras, and only an old sheriff, his entomologist girlfriend, and a bee fan can stop them. 1976. 
Terror Out Of The Sky, a TV sequel to The Savage Bees, featuring Efrem Zimbalist, Jr., Dan Haggerty, and Tovah Feldshuh: More killer bees are out to terrorize innocent people. This time Fourth of July celebrators and boy scouts are among their targets. 1978.
Tarantulas: The Deadly Cargo, with Claude Akins and Charles Frank: Tarantulas attack a town, and are immobilized only by the sound of buzzing bees. 1977.
Deadly Invasion: The Killer Bee Nightmare, a TV movie featuring Robert Hays, Nancy Stafford, and Ryan Phillippe: A family bands together to fight an invasion of killer bees attacking their home in the country. 1995.
Invasion Of The Bee Girls, with William Smith and Anitra Ford: Alien bees possess the bodies of voluptuous women, turning them into queen bees who are out to eliminate the male species by sapping their strength with sex. 1973.
Keeper Of The Bees, featuring Michael Duane, Harry Davenport, and Gloria Henry: An older man who runs an apiary lends support to a conflicted artist who is divorcing his wife. 1947.
Fried Green Tomatoes, starring Kathy Bates, Mary Stuart Masterson, Mary-Louise Parker, and Jessica Tandy: A woman in a troubled marriage meets an old woman in a nursing home who tells inspiring stories from her past. The movie focuses on friends in the present, and friends in the past; one of which is a bee "charmer" named Idgie, who isn't afraid of bees and braves them to give her friend a honeycomb. 1991. 
Leave a Reply