Movie Trivia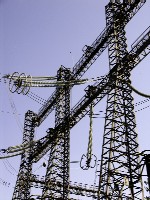 Featuring electricians, power plants, and  of course, electricity.
Almost all professions are portrayed by Hollywood: Law, medicine, education, business, white collar, blue collar, etc.
Now it's electricity's turn to shine in the spotlight.
Here are some movies featuring electricity.

What would you add to the list?
Frankenstein, starring Colin Clove and Boris Karloff: With the help of electricity, Dr. Frankenstein creates his monster. 1931.
Benjamin Franklin, featuring Monte Brice, Billy Franey, and Lewis Sargent in this black and white silent movie about the "father of electricity". 1924.
Bill And Ted's Excellent Adventure, with Keanu Reeves and Alex Winter: Electricity fuels the time machine that shuttles Bill and Ted through a living history lesson. 1989.
Back To The Future, featuring Michael J. Fox and Christopher Lloyd: A teenager time travels with a DeLorean and a boost of electricity. 1985.
The Crow: Salvation, starring Kirstin Dunst and Eric Mabius: A man put to death in the electric chair is resurrected by a crow. 2000.
National Lampoon's Christmas Vacation, with Chevy Chase and Patti D'Arbonville: Clark Griswold gets a charge out of some Christmas lights. 1989.
The Electric Horseman, starring Robert Redford and Jane Fonda: A once-famous rodeo is scheduled to appear in Vegas in a suit of lights as a breakfast cereal sponsor, but refuses when he discovers that the powers that be plan to drug the horse to keep it from being less boisterous. 1979.
It Came: The electricity goes haywire at a video store and an electrician is turned into a rampage killer, but generously shares his misfortune with others. 1993.
Monkey Businessmen, with The Three Stooges: Moe, Larry, and Curly are electricians whose next job is at a retirement home. 1946.
Mr. Wonderful, with Matt Dillon: An electrician gets a chance to find Miss Right, and she may be closer than he ever realized. 1993.
Shocker, featuring Peter Berg and John Tesh: A serial killer on death row is executed in the electric chair, and comes back from the dead to wreak revenge on his enemy with electricity. 1989.
The Energy Carol is an animated twist to A Christmas Carol, except that in this version, Ebenezer is civil to his employee, so much so that he teaches him the importance of saving energy and using it wisely: 1975.
The Electric Valley is a documentary about the creation and history of the Tennessee Valley Authority. 1983.
Honey, I Blew Up The Kid, with Rick Moranis and Marcia Strassman: In this experiment, electricity makes Adam the toddler grow whenever he's around anything electrical. 1992.
The Electric Company: A favorite children's program that used songs and cartoons to teach reading skills. 1971-1977.
Leave a Reply