Movie Trivia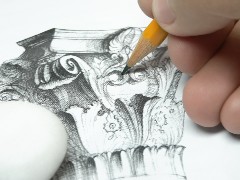 A picture is worth a thousand words.
The magazine kind, and the Hollywood kind.
To pay tribute to those behind the images that catch our eye, turn our head, or make us want to run out and buy a brand new car, here are some films featuring graphic designers and illustrators:
Washington Heights, featuring Manny Perez: A young Latino wants to escape his neighborhood and make it big in New York as a comics illustrator. 2002.

The Fear Inside, starring Christine Lahti and Dylan McDermott: An agoraphobic illustrator and her son are held hostage in her home by two psychopaths. 1992.
Avassaladoras, with Giovanna Antonelli: A young graphic designer who hasn't had a decent date in over a year consults a dating service. 2002.
Loving, with George Segal and Eva Marie Saint: A successful illustrator is in a quandary: Shou1d he continue as a successful illustrator, or try something even  bigger. 1970.
What Women Want, starring Mel Gibson and Helen Hunt: An ad exec acquires the ability to hear what women are thinking. 2000.
Leave a Reply