Sports Trivia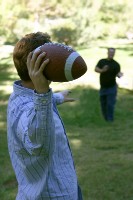 1) What is the Super Bowl?
The Super Bowl is the National Football League's annual championship game, which is the highlight of the season.  Since its beginning, it has been played in January each year, generally on the last Sunday of the month.  Record numbers of people watch the ultimate sporting event, frequently making it the highest rated viewing of the year.  Half time shows become more elaborate each year as do commercials that appear during the game. 
2) When was the first Super Bowl?
The first championship was played in 1967, between the Green Bay Packers and the Kansas City Chiefs.  At that time, a commercial air time during the game could be purchased for just under $100,000.00 while today a one minute spot costs millions of dollars. 

3) Which team has appeared in the most Super Bowl games?
The Dallas Cowboys lead, having made it to the championship eight times as of January 2005.  The Cowboys are tied for the lead in Super Bowl victories, sharing the spot with San Francisco, at five wins each as of 2005. 
4) Who is the Super Bowl Trophy named for?
The trophy is named for famed Green Bay Packer coach, Vince Lombardi.  The beautiful trophy was designed and continues to be made by Tiffany & Company. 
5) Who gets a Super Bowl Ring?
The traditional championship ring is a large sculpture of precious metals and gems, making it quite a flashy piece of jewelry.  Players always receive a championship ring, as do coaches.  Many times other important figures from the winning football club are also presented with rings.
Leave a Reply