Sports Trivia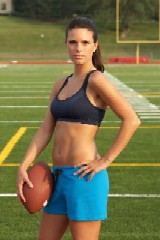 Sure you watch "Monday Night Football" and cheer on your high school and college teams, but how much do you really know about football? Use these football facts to amaze your friends next Sunday and Monday.
1. The first modern football game was played on November 6, 1869 between Rutgers and Princeton Universities.  Just 100 curious onlookers attended.
2. The original football rules required that players move the ball just five yards in three plays, or "downs."  This was changed to ten yards in four "downs" in 1912.
3. Originally, teams could have twenty-five players on the field (as opposed to fifteen, today).

4. Numbers on players' jerseys first appeared in 1915, but they weren't required until 1937.
5. Touchdowns were originally worth between one and five points.  They were standardized at six points in 1912.  Field goals were originally worth five points.  They were changed to three points in 1909.
6. The first Super Bowl was held in 1967 between the Kansas City Chiefs and the Green Bay Packers.  It couldn't even fill the 94,000-seat Los Angeles Coliseum.  Only 61, 946 people attended.
7. The first bowl game was the 1902 Rose Bowl, between Michigan and Stanford.
8. The first televised football game was held on October 22, 1939 between the Philadelphia Eagles and the Brooklyn Dodgers.  The broadcast was primitive and the screen blackened each time a cloud passed by.
9. The instant reply was first used by CBS in the 1963 Army-Navy game.
10. The first football stadium was built by Harvard University in 1903.
Leave a Reply