Animal Trivia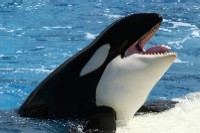 The mere mention of "Killer Whale" usually evokes about as much fear as the mention of a killer shark but as you'll see, Orcas aren't so bad after all.
1. Killer whales can live as long as eighty years!
2. A Mama Orca carries her baby for 16-17 months.
3. Killer whales are a member of the dolphin family.

4. The most famous killer whale is Keiko who co-starred in the 1993 movie titled 'Free Willy'.
5. An Orca calf is normally about six and a half feet in length and weighs about 400 pounds.
6. Killer whales have 40-52 teeth!
7. Orcas eat whales, sharks, penguins, squid, seals, turtles and even sea gulls.
8. Orcas can dive up to 100 feet deep.
9. Orcas are the largest member of the dolphin family.
10. Orcas are only one of 76 cetacean species and are considered marine mammals.
Leave a Reply