Animal Trivia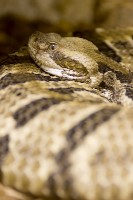 If you've ever walked through the woods and heard something that resembled the sound of a rattlesnake … think twice about encountering the timber rattlesnake. Here some facts about the timber rattlesnake you may be surprised to know.
1. Timber rattlesnakes begin to crawl in early April in some places all the way until October!
2. Adult timber rattlesnakes shed their skin usually every 1-1 1/2 yrs.
3. The average lifespan of a timber rattlesnake is 16-22 years, some live for as long as 30 years.

4. A new rattle segment is added each time a timber rattlesnake sheds skin.
5. While most people say timber rattlesnakes are aggressive snakes, they will not 'chase' people and they only attack when provoked or threatened.
6. The timber rattlesnake is the largest and most venomous snake in the state of New York.
7. The longest timber rattlesnake ever recorded measured out at 74 1/2 inches.
8. The normal length of a timber rattlesnake is three to five feet or 91-140 centimeters.
9. A Mama timber rattlesnake will carry her babies for 4-5 months.
10.  The average number of baby snakes born to a Mama timber rattlesnake is nine and each baby timber rattlesnake is about a foot long at birth.
Leave a Reply