Movie Trivia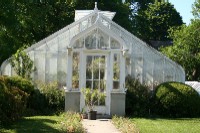 People go to them for different reasons. To rest, to retreat, to grow, think, meditate, dream, and nurture.
They are places of life, and places of tomorrow.
Hollywood has its way of presenting greenhouses, as these movies featuring them will attest.
Which ones have you seen? What would you add to the list?

Green Card, starring Gerard Depardieu and Andie MacDowell: A Frenchman and a New Yorker share an apartment with a greenhouse. He needs to marry an American to gain citizenship. She needs to marry to keep the apartment. 1990.
Silent Running, a science fiction film with Bruce Dern: An astronaut who loves tending Earth's only trees in giant greenhouses in space is ordered to destroy them, but finds it impossible to comply. 1972.
The Hand That Rocks The Cradle, starring Rebecca De Mornay and Matt McCoy: A nanny out to destroy the family she works rigs a horrifying accident in a greenhouse. 1992.
Blue Monkey, featuring Steve Railsback and Ivan Roth: A greenhouse sets the stage for slimy horror, when a man working with plants is bitten by an insect that causes a wormlike parasite to be expelled from his mouth. 1987.
Come Buttercup, Come Daisy, Come…? A UK TV  movie with Christine Hargreaves and Alan Haywood: A wife begins to wonder why her husband spends so much time in his greenhouse with his exotic plants. 1965.
Die, Monster, Die, starring Nick Adams and Boris Karloff: A scientist has created giant plants in his greenhouse, but his experiments get out of hand and no one is safe. 1965.
Il pianeta degli uomini spenti, an Italian film featuring Claude Rains: A quirky scientist who studies flowers in his greenhouse experiences an invasion from outer space. 1961.
The Fountain, featuring Doreen Chalmers and Peter Dillard: When a man finds a strange fountain in his greenhouse, he gives some of the water to his ill wife, with startling results, making him wonder if he should have tampered with nature. 2001.
Honey Harvester, an animated Disney movie: Donald Duck is working in his greenhouse when he tangles with some angry bees. 1949.
Ruby In Paradise, starring Ashley Judd and Todd Field: A woman trying to make a fresh start meets a greenhouse worker, just one of the pivotal characters she meets in her quest to find herself. 1993.
Let's Stick Together, a Disney animated film featuring Donald Duck: Almost a sequel to Honey Harvester,  Donald is old, and he and the bee reminisce about the old days, and even visit a greenhouse. 1952.
Saving Grace, featuring Craid Ferguson and Brenda Blethyn: A gardener helps a widow out by suggesting she grow marijuana in her greenhouse, over the objections of his pregnant, law-abiding girlfriend. 2000.
Harrison's Flowers, featuring Adrien Brody and Andie MacDowell: A wife travels to Yugoslovia to find her photojournalist husband, believed to have bee killed in the war, while their son tends to his father's greenhouse as if to say, "If we keep his flowers alive, we keep him alive". 2000.
Hollywood Wells
Water is a precious resource we can't live without. Sometimes taken for granted; sometimes wasted. Hollywood, though, is one place that appreciates it and the importance of its wells. It has devoted hours and hours of film to the subject, reminding us that water is so vital that people are willing to fight for it, and die for it.
Check out these Hollywood wells. Which ones have you seen? What would you add to the list?
The Cheyenne Cyclone, featuring Lance Chandler and Frankie Darro: After a rancher's water supply is poisoned, a well driller is hired, but the driller is paid by a rival to find no water, and a feud over the ranch ensues. 1931.
Colt Comrades, with William Boyd and Andy Clyde: Hopalong Cassidy drills for oil but finds water instead, becoming a threat to the man who controls all the water. So much so that the man pins false rustling charges on Hopalong. 1943.
The Farmer And The Belle, a Popeye cartoon: Popeye competes with Bluto for Olive Oyl's attention by performing chores, including drawing water from a well.  1950.
Jean de Florette, with Gerard Depardieu and Yves Montand: A French film about a man who is forced to water his crops from wells after a jealous neighbor blocks the spring. 1986.
Judith Of Bethulia, starring Blanche Sweet: The Assyrian king sends an army to defeat Judea, capturing the well and the women outside the gate. 1914.
Kamigami no Fukaki Yokubo, a Japanese film featuring Kazuo Kitamura: A Tokyo engineer comes to an island to drill a water well for the sugar mill, and meets an inbred family who encourages him to marry their mentally-challenged daughter. 1968.
Lao jing, a Chinese film starring Yujing Liang and Liping Lu: While digging a water well for their village, a married man and his old flame are trapped when the well collapses, and they examine their feelings for themselves and others. 1986.
Lourdes, a TV movie featuring Angele Osinsky: A sick girl named Bernadette is instructed by the Virgin Mary to dig a wellspring which produces healing waters. 2001.
The Old Chisolm Trail, with Johnny Mack Brown, Tex Ritter, and Mady Correll: Belle Turner will do anything to keep cattleman Dusty Gardner from drilling a water well for his herd of cattle. She would prefer to sell her own water to him for an outrageous amount. 1942.
Le puits fantastique (also known as The Enchanted Well), a three-minute French silent film: A witch puts a curse on a well. Instead of producing water, it produces flames, snakes, demons, dragons, and frogs.: 1903.
Remparts d'argile, a Frnch/Algerian film featuring Leila Shenna: A woman hides rope and bucket from an army that has forced their way into her village because of a strike, denying the army access to the well.  1968.
Riding The Wind, featuring Tim Holt and Ray Whitley: A tyrannical man in control of the town's water uses it as a weapon against ranchers and their cattle until they decide to dig wells and have the water pumped via windmills. 1942.
Sahara, starring Humphrey Bogart: A large German army wants the water well that belongs to a collection of British, French, South African, and Sudanese soldiers. 1943.
Them Thar Hills, with Stan Laurel and Oliver Hardy: The friends visit the mountains,  where they drink from a well, unaware that it is full of abandoned moonshine. 1934.
Water, a comedy featuring Michael Caine and Valerie Perrine: The British, Americans, Cubans, French and rebels all want to control the abandoned oil well that now produces mineral water. 1995.
World Gone Wild, with Bruce Dern and Michael Pare: The year is 2087, and Lost Wells holds the only water in existence following a nuclear holocaust, and people are willing to fight, die, and kill for it. 1988.
Leave a Reply