Movie Trivia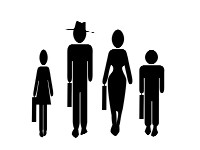 There's no business like show business, and no business quite like a family business. Even Hollywood has paid homage to this unique blend of business and pleasure.
Check out these movies featuring family businesses. What's your favorite? What would you add to the list?
Body Waves, starring Bill Calvert and Leah Lail: A teenager sets out to break away from the family business and do something on his own, and in doing so, invents a popular sex cream. 1992.

Tommy Boy, with Chris Farley, David Spade, and Brian Dennehy: Tommy Callahan III sets out to salvage the family's auto parts business after his father dies, hoping to save it from falling into the hands of his young stepmother and stepbrother. 1995.
Billy Madison features Adam Sandler as a man who proves he can run the family business by vowing to finish his education, from elementary school through high school. 1995.
Dallas:  A wildly popular TV series about the Ewing family's oil business, with some shady and not-so-shady characters, stars Larry Hagman, Jim Davis, Patrick Duffy, Linda Gray, and Victoria Principal. 1978-1991
Dynasty, starring John Forsythe, Linda Evans, and Joan Collins: From the Ewings to the Carringtons, this nighttime TV soap dishes up another family oil business in all of its glitz and conflicts. 1981-1989. 
Australia, featuring Jeremy Irons and Fanny Ardant in this drama about a man who returns home to help out his family's wool business after World War II. 1989.
Café And Tobacco, starring Enrique Murciano as a young medical school graduate trying to help keep the family business and ties together. 2003.
Cimarron, with Glenn Ford and Anne Baxter in the story of a frontier family's newspaper business and its CEO, who refuses to swindle Native Americans out of their land and oil. 1961.
Country, a TV movie featuring Frederick Alexander and Jill Bennett: The story of the Carlions, who run a brewing dynasty and must decide which one will run the family business upon the death of their patriarch. 1981.
The Creator's Game, with Dakota House: An Iroquois Native American pursues his dream of being a football coach while trying to save his father and sister's store. 1999.
La Florida, starring Remy Gerard and Pauline Lapointe: A Quebec family moves to Florida to open a motel, but encounters unscrupulous businessmen out to eliminate their competition. 1993.
Joseph's Gift, featuring Freddy Rodriguez as Joseph in the updated Bible story of a lost son who finds his way back home to his family's successful garment business. 1998.
Hot Cargo, with William Gargan and Jean Rogers: Two war veterans help save a family's trucking business from ruthless rivals. 1946.
A Place In The Sun, with Montgomery Clift as a blue-collar man who enters a friend's family business and works his way up, finding love on both sides of the track (Shelley Winters and Elizabeth Taylor). 1951.
The Godfather, starring Marlon Brando, Al Pacino, and James Caan in the ultimate "family business" film: The Corlione's business is organized crime, but after bloodshed and betrayal, can son Michael make it legitimate?
Leave a Reply