Locations Trivia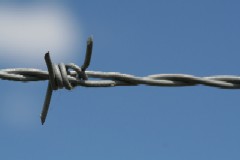 Towns across the United States are known for an eclectic array of reasons.  Perhaps it is because of years of experience at a particular aspect of life, maybe it is due to a specialty that no other town has mastered, or quite possibly, it is for no other reason than an unavoidable happenstance of time.
La Crosse, Kansas has the distinction of being named the "Barbed Wire Capital of the World."  Located in Rush County, La Crosse is the county seat.  Do not confuse it with its namesake, La Crosse, Wisconsin.  People who have a fascination with this "devil's rope" gather in La Crosse to discuss its finer points.
The largest known collection of barbed wire and fencing tool patents is located in La Crosse at the Larry Greer Research Center.  Barbed wire, twists of steel with sharp points, created to restrict animals, is the focus of this center.  However, barbed wire has been used to restrict human beings as well.

Also located in La Crosse, Kansas is the Antique Barbed Wire Society (ABWS), an international organization that is dedicated to the heritage of barbwire and barbed wire related materials.  This group collects, preserves, and exhibits the items in its attempt to interpret the history of barbwire.  It includes members from the United States, Australia, the Netherlands, and England.
"The Barbed Wire Collector" is a publication that the group puts out for individuals who have made barbed wire and all related products their hobby.  Each issue is full of interesting information concerning war wire, items imprinted with barbed wire symbols, inventor facts, historical facts, and barbed wire museums.  The publication also highlights the locations of upcoming auctions as well as impending sales of barbed wire.
Every first weekend in May, the Kansas Barbed Wire Collectors Association (KBWCA) Swap and Sell occurs in La Crosse, Kansas.  People come from all over for this annual festival and celebration of barbed wire.  The event has been held annually since 1967.  It's an opportunity for collectors to show off their prized possessions, purchase new possessions, or simply to drool over the possessions of others.
One of the highlights of this event is the "World Champion Barbed Wire Splicing Contest," which requires contestants to display their skill at mending barbed wire fences.  While visiting La Crosse, the museum is a must see with its prized possession of a raven's nest that is constructed almost entirely of barbed wire.
Leave a Reply