Locations Trivia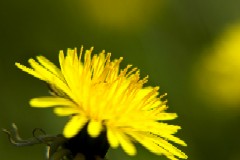 Towns across the United States are well known for one thing or another.  Some of these things should be shouted aloud and others should simply be kept quiet.  Either way, the choice is yours to make whether you consider the claim to fame that these cities spout so proudly to be virtuous of the title.
Vineland, New Jersey, has the distinction of being named the "Dandelion Capital of the World."  In fact, the first National Dandelion Festival was held in Vineland in 1973.  In subsequent years, Vineland's Mayor Patrick Fiorelli proudly proclaimed Vineland to be the "Dandelion Capital of the World."  Publicity was widespread and immediate, causing quite a sensation. 
It is located in Cumberland County and is approximately 53 miles away from the state capital, Trenton.  To this day, the Annual Dandelion Dinner Festival is held in Vineland, New Jersey.  Patrons of this event can enjoy a variety of dishes prepared with dandelions, including dandelion salad, which is one of the most popular and most commonly found dandelion dish throughout the world.  

Dandelions are actually classified as a common weed, albeit a tasty weed.  Dandelions, hearty plants, grow wildly in open fields.  In New Jersey, the dandelion begins sprouting in March and April and continues throughout the summer.  This well-known perennial is a valuable crop for New Jersey farmers, bringing in three to four hundred thousand dollars every year.
Despite the fact that the dandelion is a common weed, in Vineland, it is treated like any other valuable crop.  It is nourished with the best of fertilizers and protected with the proper herbicides.  In fact, its worst adversary, the one that is most likely to take over its territory, is grass.
Dandelions are more popular within certain ethnic groups including Italian, Greek, French, and other groups from the European continent.  In fact, the dandelion originated in Europe as well as Asia.  Its vibrant green leaves provide a healthy substitute for other nutritional vegetables. 
Vineland is also the birthplace of Welch's grape juice, which was discovered in 1869 by Dr. T.B. Welch.  Plus, Vineland has been home to the inventor of the Mason jar, John Landis Mason.
Several other cities in New Jersey are noted for similar titles.  Barnegat Light has been called the "Tile Fish Capital of the World."  Hammonton is the "Blueberry Capital of the World." Additionally, Leamings Run Gardens is the "Hummingbird Capital of the World."
Leave a Reply