Movie Trivia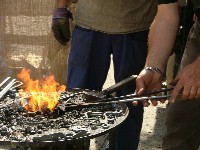 It takes unique skill and craftsmanship to be a blacksmith, an ability that can be learned by anyone, but can't be enjoyed by just anyone. Not everyone can know or appreciate the expertise that is often passed down from one generation to the next.
Some say it is a thing of the past. But that is what makes it so intriguing.
Even Hollywood has noted the mastery of the blacksmith. Here are some films that feature them. Which ones have you seen? What would you add?

The Art And Mystery Of The Blacksmith is a documentary about the history of blacksmiths and how the machines of progress have rendered the profession a rare but sought-after skill. (Featuring Peter Ross as master of the shop) 1999.
The Black Knight, featuring Alan Ladd, Peter Cushing, and Patricia Medina: A blacksmith who hopes to woo an Earl's daughter strives to impress her by becoming a knight and fighting for King Arthur. 1954.
Blacksmith Scene, an early silent black and white film showing  three smiths firing and shaping some iron rods and enjoying some beer while they work. 1893.
The Legend Of Sleepy Hollow, a made-for-TV movie with Brent Carver and Rachelle Lefevre: Brom Bones is the blacksmith and current romantic interest of Katrina Van Tassel, but Ichabod Crane, the new school teacher in town, is a rival for her affections, so the blacksmith dresses in the costume of the headless horseman to chase him away. 1999.
Ridin' The Outlaw Trail, featuring Charles Starrett and Smiley Burnette: Smiley the blacksmith is kidnapped by outlaws who need him to melt down their stolen gold pieces into nuggets. 1951.
A Country Hero, with Roscoe "Fatty" Arbuckle and Buster Keaton: The owner of a blacksmith shop and the owner of a garage compete for the affections of Alice, a school teacher. Their competition soon becomes an alliance, though, when the new guy makes a play for her. 1917.
The Blacksmith, starring Buster Keaton in this comedy short which proves that shoeing horses and fixing cars don't mix. (Or do they?)  1922.
Joe Palooka Meets Humphrey, with Leon Errol, Joe Kirkwood, Jr., and Robert Coogan: An easygoing  blacksmith turns boxer after it's discovered he has a powerhouse punch. 1950.
Great Expectations, a TV movie with Ioan Gruffold and Justine Waddell: Will Pip become a blacksmith as family and friends expect, or will a young woman lead him in a different  direction? 1999.
Knutzy Knights, starring the 3 Stooges: In Elizabethan times,  Moe, Larry, and Shemp assist their pal Cedric the blacksmith in winning the heart of Princess Elaine. 1954.
The Last Days Of Pompeii, with Basil Rathbone and  Alan Hale: Set in the ill-fated Rome city, a peaceful blacksmith turns  aggressive gladiator, while his son considers Christianity after a chance meeting with  Christ. 1935.
Samuel Lount, starring R.H. Thompson: Set in rural Canada in the 1830's, Samuel Lount is a blacksmith who is torn between his pacifist beliefs and fighting for freedom and revolution for his country. 1985.
Leave a Reply