Movie Trivia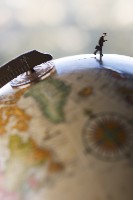 On the road again.
Just can't wait to get on the road again?
Traveling doesn't have to be a task to loathe. Instead of inciting bouts of road rage, travel can be, if you let it, a time of great reflection, planning, and productivity.
Whether you're the occasional traveler out for a nice Sunday drive, or travel so often you can't wait to get off the road again, it's time to give you the recognition you deserve, so here are a few movies featuring travelers and traveling that you may find enjoyable.

What would you add to the list?
Planes, Trains, And Automobiles, starring John Candy and Steve Martin: A traveler tries to make it home for Thanksgiving, and has an irritating but sympathetic shower ring salesman as a traveling companion. 1987.
The Postman, starring Kevin Costner and Will Patton: A science fiction story set in a post-apocalyptic world in the near future, a traveler restores civilization and hope by resuming the mail service.  1997.
Neon City, with Michael Ironside and Monte Markham: A sci fi adventure about a collection of travelers who try to leave one solar-devastated town for Neon City. 1992.
Duets, with Huey Lewis and Gwyneth Paltrow: The lives of a group of travelers converge at a karaoke bar.  2000.
Traveling Man, with John Lithgow and Jonathan Silverman: A traveling salesman tries to regroup as he's provoked by an ambitious young rookie. 1984.
The Beach, starring Leonardo DiCaprio: A young traveler goes to Asia to escape adult expectations and live life as a free spirit.  2000.
Dead Man, featuring Johnny Depp and Lance Henrikson: A traveler takes a spiritual journey into from this life into the next. 1995.
Dodson's Journey, with David James Elliot and Brenda James: To ease their troubled lives, a father takes his young daughter on a cross-country fly-fishing trip. 2001.
Far From Home, with Drew Barrymore and Matt Frewer: A father and daughter travel home from a cross-country vacation, only to be sidetracked by deaths in a small town. 1989.
Misguided Angel, starring Ken Bieder: A lone traveler tries to forget his past and start life in a new place, where he is taken with a lonely young woman who lives with her brother. 1998.
The New Arrival: A man and woman talk about the good old days as they travel to a rest home. 2000.
Spookies, starring Felix Ward: Travelers find themselves trapped in a strange house with even stranger people. 1985.
Outside Ozona, starring Robert Forster and Kevin Pollak: A diner serves as the crossroads for a group of interesting travelers. 1998.
Dutch, featuring Ed O'Neill: A man agrees to pick up his girlfriend's son from his prep school in Georgia and drive him all the way back to Chicago, but will they survive the trip, and each other? 1991.
Leave a Reply