Movie Trivia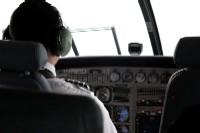 Look.
Up in the sky.
It's a bird. It's a plane.
It's a pilot flying a plane.

Pilots have always represented the notable few that do something that most of us only dream of, and that's being in control of an airplane.
We mere mortals can only stand in awe of the skillful hands and minds that man such a complex piece of machinery.
Pilots are the envy of men, and the admiration of women. And for the gender correct, the envy of women, and the admiration of men.
Hollywood has managed to garner the respect and envy that pilots so deserve. Many films portray pilots in a myriad of ways. From the capable and cautious to the seat-of-the pants daredevil.
Check out these movies featuring pilots, and see which ones you've seen, and which ones you may want to rent:
Air America, with Mel Gibson, Robert Downey, Jr., and Nancy Travis: Set in Vietnam, a young pilot is wrangled into covert CIA operations. 1990.
Skyscraper, featuring Anna Nicole Smith: A woman pilot and her husband try to save hostages when terrorists detain her helicopter. (Video release) 1995.
Six Days, Seven Nights, starring Harrison Ford and Anne Heche: A hard-boiled pilot and a pretty magazine editor try to survive a crash landing on a desert island, and each other. 1998.
Airplane!, a spoof of the Airport 1975 disaster movie, starring Robert Hayes, Julie Haggerty, Lloyd Bridges, and Leslie Nielson: A pilot who's lost his nerve must get it back in order to land a disabled plane. 1980.
Courage Under Fire features Meg Ryan in the true story of female fighter pilot Captain Karen Walden, whose plane was shot down in Desert Storm in a rescue operation. Also stars Denzel Washington, Matt Damon, Lou Diamond Phillips, Michael Moriarty. 1996.
Mysteries Of Amelia Earhart is a TV documentary about the woman pilot who disappeared in 1937 during her around-the-world flight. 1998.
Airspeed, with Joe Mantegna, Elisha Cuthbert, and Bronwen Booth: A teenybopper must take control of an airplane when lightning strikes and knocks the pilots unconscious. 1998.
Jag. In this TV episode, a female fighter pilot disappears and an investigation gets underway. Starring David James Elliot. 1995.
Always, featuring Richard Dreyfuss, Holly Hunter, and John Goodman: Even after death, a fighter pilot's spirit steers the lives of the ones he left behind. 1989.
By Dawn's Early Light is a made-for-TV movie with Powers Boothe and Rebecca De Mornay: A pilot and his female co-pilot try to help the military reclaim its power after a limited nuclear exchange in which the president's helicopter crashes. 1990.
At Play In The Fields Of The Lord, starring Tom Berenger, Daryl Hannah, and John Lithgow: An American pilot gets involved in the lives of missionaries out to convert the Indian natives to Christianity in South America. 1991.
Fly Girls, a documentary about WASPS, the WWII Women Airforce Service Pilots. 1999.
Blue Thunder, with Roy Scheider, Warren Oates, and Daniel Stern: An ace pilot is excited about piloting a new police helicopter known as Blue Thunder until he discovers it's true purpose. 1983.
Leave a Reply