Movie Trivia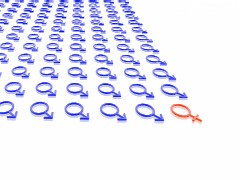 Burning bras or burning bridges, feminists have changed women's lives forever, and for the better.
Without them, we wouldn't have the luxury, or right, to choose  career, family, both, all, or whatever we please. We would still be in the dark ages were it not for the pioneers. Thanks to their trail-blazing, we can vote, work, strive, study, create, compete. We can love it or leave it. Take it or shake it. That's what feminism has given us: The FREEDOM  to embrace the parts we want, reject the parts we don't, and define our lives the way we will.
To celebrate feminism in all its glorious colors, here are some films that feature feminists. What would you add to the list?

Woman Of The Year, starring Spencer Tracy and Katharine Hepburn: A famous feminist's busy lifestyle is beginning to bother her husband. 1942.
Born In Flames, with Honey and Adele Bertei: In this fantasy feature, a socialist government tries to right the wrongs for various disenfranchised groups, and outspoken feminists are frustrated that even then all of their problems aren't solved. 1983.
Designing Women, with Delta Burke,  Dixie Carter, Annie Potts, and Jean Smart: A TV series about an Atlanta designing firm that is headed by a feminist and her colleagues. 1986.
The Five Mrs. Buchanans, featuring Judith Ivey and Beth Broderick: Set in Indiana, five women are married to five Buchanans, one of which is a New York feminist. 1994.
Girls On Top, a UK TV series starring Dawn French and Jennifer Saunders: A group of women from differing backgrounds, including a feminist writer for "Spare Cheeks" magazine, share an apartment. 1985.
Bullets For Breakfast, with Betty Fitzsimmons: Through a feminist's lens, we scrutinize women's role in the Western. 1992.
Days Of Democracy is an Egyptian documentary covering women's suffrage in Egypt, feminist politicians in that country, and their campaigns. 1996.
Heller Wahn, featuring Hanna Schygulla and Angela Winkler in this German film about two friends: One teaches feminist literature. The other is a suicidal painter. When their friendship deepens and becomes more complex, the painter's husband becomes jealous. 1983.
If These Walls Could Talk 2, starring Vanessa Redgrave: A TV movie featuring three decades of various lesbian couples. 2000.
Men Who Have Made Love To Me, with Mary MacLane: Feminist Mary MacLane plays herself in this drama as she describes six of her brief romantic encounters, including a prize fighter, bank clerk, and a married man. 1918.
Myth Of The Male Orgasm, featuring Mark Camacho and Macha Grenon: A feminist psychology experiment causes one young man to rethink his relationship with the woman in his life.  1993.
Oklahoma Crude, with George C. Scott and Faye Dunaway: An oil woman and hardboiled feminist battles oil companies and her estranged father. 1973.
A Reason To Believe, starring Jay Underwood and Allison Smith: When a college girl is forced into sex, fraternities and feminist groups on campus show that it was rape, thus dividing friends and students. 1995.
Seva Sadan, with M.S. Subbalakshmi: An Indian musical about women's emancipation and prostitution, and a popular widow who loses her mind. 1938.
Silent Victim, featuring Allison Beaman and Dan Biggers: When a wife loses her unborn baby at the hands of her abusive husband, she turns to her feminist attorney friend in New York for help. 1993.
Slaves To The Slaying The Dragon is a documentary that examines Hollywood's Asian American actresses from an Asian/feminist perspective: (Narrated by Herb Wong and featuring Amy Hill, Nancy Kwan, and Kim Miyori) 1988.
Stand Up And Be Counted, starring Jacqueline Bisset, Stella Stevens, Steve Lawrence: A feminist writer returns to her home town to write an article, finding that her mother and sister very much agree with the feminist movement. 1972.
The World According To Garp, with Robin Williams, Mary Beth Hurt, and Glenn Close: Garp's mother writes a feminist paper that attracts countless frustrated women. 1982.
A Bunny's Tale, starring Kirstie Allry as Gloria Steinem in this TV movie about Ms. Steinem's  experiences as a 1963 Playboy Bunny. 1985.
Leave a Reply